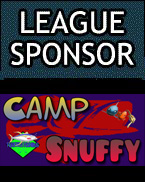 Blue Division
Team
P
W-D-L
Extreme Deuces
24
8-0-2
AceOfSpades
21
7-0-3
Federation Fishers
21
7-0-3
Crystal Lake Crew
21
7-0-3
GALAXY FISHERS
15
5-0-5
Femme Fatale Fishers
12
4-0-6
Pescadoras Calientes
12
4-0-6
Sushi Angels
12
4-0-6
Gone Fishin'
12
4-0-6
What's The Catch?
12
4-0-6
Blue Waffles
3
1-0-9
Red Division
Team
P
W-D-L
Cookie Casters
24
8-0-2
The Cohenites
18
6-0-4
Keeping it Reel
18
6-0-4
Rag Doll Cats
18
6-0-4
The Collective
18
6-0-4
Camp Snuffy
18
6-0-4
Double Trouble
12
4-0-6
Lil' Bass Kickers
12
4-0-6
Summer Bay Bandits
12
4-0-6
Grumpy Old Men
9
3-0-7
DaCastadagz
6
2-0-8


Welcome to Season 13 of the Neo-Realms Team Fishing League for Second Life!
The Neo-Realms Team Fishing League (TFL) is a competitive, team-based tournament league for Neo-Realms Fishing. Players compete in 2v2 matches over the course of a season, with prizes going to the league victors.
Season 13 has begun!

TFL Season 13 Rewards
Neo-Realms | June 19, 2019, 6:04 pm
The Cohenites - 2nd Div 1st TFL
NobodysWife Resident
4645
OneMoreThinGypsyThief Resident
4645
 
Cookie Casters - 1st Div 2nd TFL
Lea Giadelli
4470
Kosan Shilova
4470
 
Extreme Deuces - 1st Div 3rd TFL
KaliCat Kennedy
3105
ItsfrancoisUba Resident
3105
 
AceOfSpades - 2nd Div 3rd TFL
Acer Danitz
2120
Angelina Maradona
2120
 
Keeping it Reel - 3rd Div
Dylan Mackenzie
875
Lacey Latrell
875
 
Federation Fishers - 3rd Div
Steffi Lavender
875
Anastasia Mathilde
875
 
Rag Doll Cats - 4th Div
DollyStar Piers
580
GJackie Winkler
580
 
Crystal Lake Crew - 4th Div
icy Zeplin
580
GuitarDan Silversmith
580
 
 

Participation Drawing Winner - Femme Fatale Fishers

 
 
---
TFL Season 13 Final Results
Neo-Realms | June 18, 2019, 7:27 pm
Congrats to The Cohenites, TFL Season 13 Champions! Huge thanks to Camp Snuffy for sponsoring this season. Rewards will be going out tomorrow. Thanks to all of the players and sponsors for participating this year, and stay tuned for details about the Solo Fishing League in the coming weeks!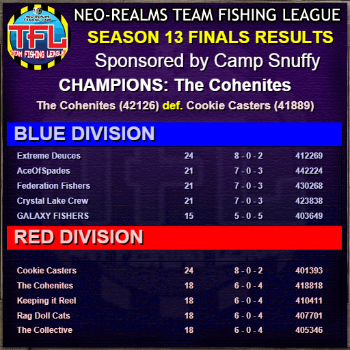 ---
TFL Season 13 Semi-final Results
Neo-Realms | June 11, 2019, 4:35 pm
The finals are here! Good luck to the teams involved:

The Cohenites vs. Cookie Casters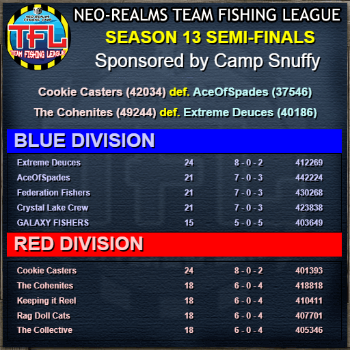 ---
TFL Season 13 Week 10 Results
Neo-Realms | June 3, 2019, 5:46 pm
The regular season has completed, and playoffs have begun! Teams participating in the playoffs are:

Extreme Deuces vs. The Cohenites
Cookie Casters vs. AceOfSpades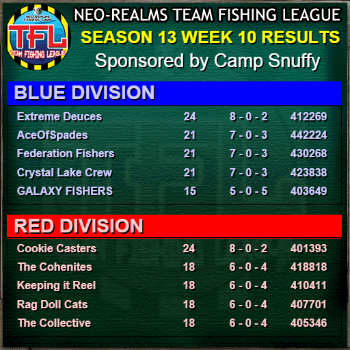 ---
TFL Season 13 Week 9 Results
Neo-Realms | June 1, 2019, 11:13 am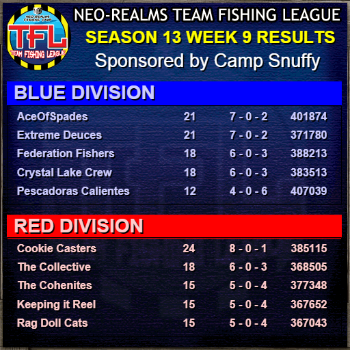 ---