Blue Division
Team
P
W-D-L
The River Dragons
15
5-0-1
AceOfSpades
12
4-0-2
BuCC Fishers
12
4-0-2
Lil' Bass Kickers
9
3-0-3
LipSmackers
9
3-0-3
Sushi Angels
3
1-0-5
Reel Women Have Lures
3
1-0-5
Red Division
Team
P
W-D-L
Keepin It Reel
15
5-0-1
Atomic Duo
12
4-0-2
CRYSTAL LAKE CREW
12
4-0-2
The Soot Sprites
9
3-0-3
Extreme Deuces
6
2-0-4
The Summoners
6
2-0-4
THE PEACOCKS
3
1-0-5


Welcome to Season 13 of the Neo-Realms Team Fishing League for Second Life!
The Neo-Realms Team Fishing League (TFL) is a competitive, team-based tournament league for Neo-Realms Fishing. Players compete in 2v2 matches over the course of a season, with prizes going to the league victors.
Season 14 has begun!

TFL Season 14 Final Results
Neo-Realms | June 16, 2020, 8:25 am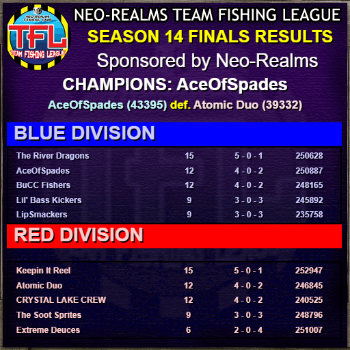 Congrats to AceOfSpades, the Season 14 champions! Thanks to everyone who participated this season.
---
TFL Season 14 Semi-final Results
Neo-Realms | June 12, 2020, 6:20 pm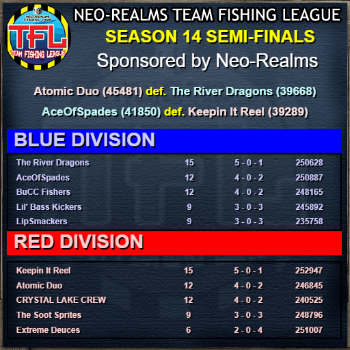 Finals are here!
Atomic Duo vs. AceOfSpades

---
TFL Season 14 Week 7 Results
Neo-Realms | June 2, 2020, 9:20 am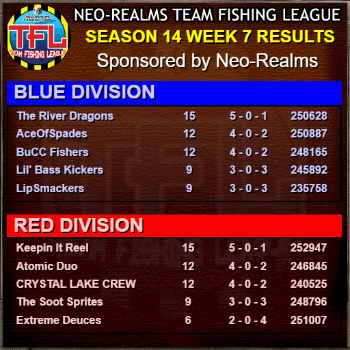 Playoffs are here!
The River Dragons vs. Atomic Duo
Keepin It Reel vs. AceOfSpades

---
TFL Season 14 Week 5 Results
Neo-Realms | May 22, 2020, 4:08 pm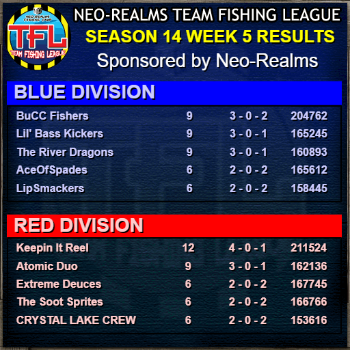 ---
TFL Season 14 Week 3 Results
Neo-Realms | May 8, 2020, 7:42 am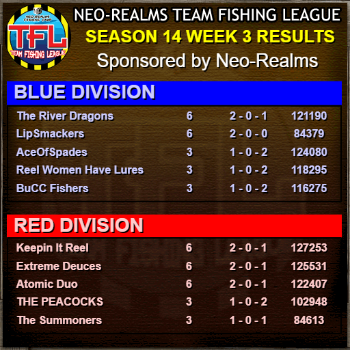 ---