TFL Season 13 Registration underway! Sponsored by Camp Snuffy!
Neo-Realms | March 9, 2019, 11:59 am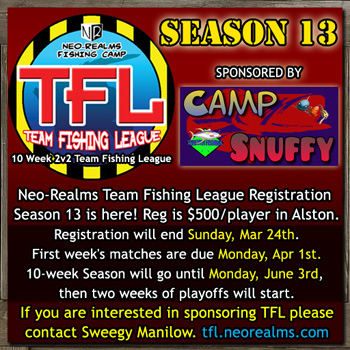 TFL Registration is now open in Alston! Registration is $500L per person and will end Sunday, Mar 24th. Feel free to take a copy of the TFL info board next to the registration vendor, it will update with TFL scores and news weekly!

One thing new in Season 13 is that all matches will be available to fish at the start of the season. Matches will still have a deadline depending on the match week, but you may fish them at any time in case you are unable to compete during a particular week.

The Neo-Realms Team Fishing League (TFL) is a competitive, team-based tournament league for Neo-Realms Fishing. Players compete in 2v2 matches over the course of a season, with over $12,500L + all registration fees in prizes going to the top teams and league victors. Grab a partner and register today!
---
SFL First Week!
Neo-Realms | August 15, 2018, 4:32 pm
Just a reminder for those in the SFL your matches are available and due by Sunday night. Good luck!
---
Solo Fishing League Season 1 Registration is Open!
Neo-Realms | July 21, 2018, 1:18 pm
The first season of the Neo-Realms Solo Fishing League (SFL) is open for registration! It will have the same format as the TFL, with players competing against other players in their group in a 10 week match format. Registration ends August 13th. For more information or if you are interested in sponsoring, contact Sweegy Manilow.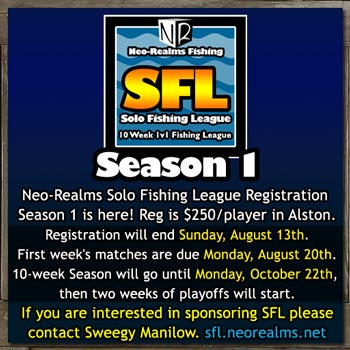 ---
TFL Badges updated!
Neo-Realms | May 27, 2018, 1:00 pm
TFL participation badges have now been updated for your achievement hats. Thanks for playing Season 12!
---
Federation Fishers TFL Season 12 Champs!
Neo-Realms | May 21, 2018, 7:59 pm
Congrats to the Season 12 champions, Federation Fishers!

A big thanks to our season's sponsor, Fairhaven and the rest of our sponsors: Borg Capalini Designs, Camp Snuffy, and Hippy Air!

The participation prize winner for this season goes to Reel Screamers! Prizes will be distributed this week.

Be sure to stay tuned, we are working on a new 1v1 solo league format coming in the coming weeks! Thanks for participating in Season 12!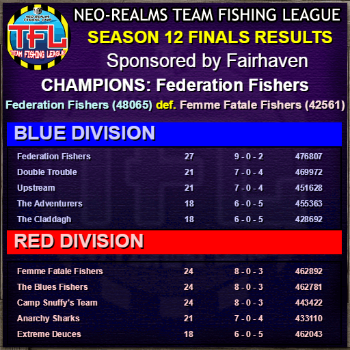 ---