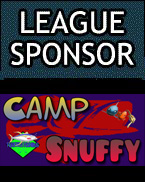 Blue Division
Team
P
W-D-L
Federation Fishers
21
7-0-0
Double Trouble
15
5-0-2
Upstream
15
5-0-2
Crystal Lake Crew
12
4-0-3
The Claddagh
12
4-0-3
The Collective
9
3-0-4
The Summoners
9
3-0-4
LipSmackers
9
3-0-4
The Adventurers
9
3-0-4
Grumpy Old Men
6
2-0-5
Fishy Siblings
6
2-0-5
Reel Screamers
3
1-0-6
Red Division
Team
P
W-D-L
Femme Fatale Fishers
18
6-0-1
Lil' Bass Kickers
15
5-0-2
Fishing With The Blues
13
4-1-2
GALAXY FISHERS
12
4-0-3
Extreme Deuces
12
4-0-3
The Blues Fishers
12
4-0-3
Camp Snuffy's Team
12
4-0-3
The Lushes
12
4-0-3
Anarchy Sharks
12
4-0-3
Mutsen Inc.
3
1-0-6
Plunder Mateys
3
1-0-6
Fairhaven Fishers
1
0-1-6



Semi-Final Results
Neo-Realms | May 2, 2011, 2:56 pm
It will be an all-Red Division final with G-Force Express defeating Federation Fishers and The Claddagh defeating Cant(erbury) Fish. We're down to the finals and next week we will know our TFL Season 5 Champion! Good luck!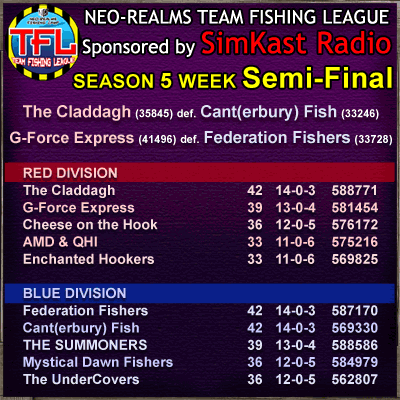 ---
Week 10 Results
Neo-Realms | April 26, 2011, 12:10 pm
The regular season is over! Thanks to all the teams who participated! Now it's on to the playoffs! The playoffs will feature Red Champions The Claddagh vs the Blue Runner-ups Cant(erbury) Fish, and the Blue Champions Federation Fishers will play the Red Runner-ups G-Force Express. Good luck to the finalists playing this week!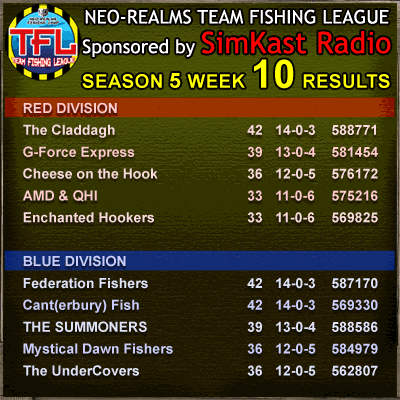 ---
Week 9 Results
Neo-Realms | April 20, 2011, 1:40 pm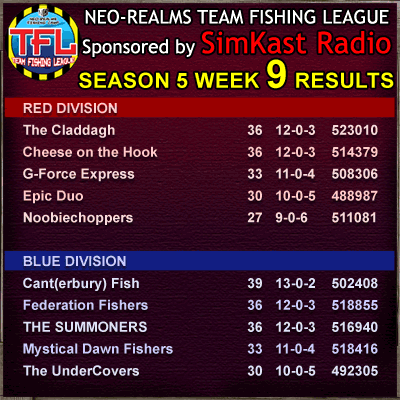 ---
Week 8 Results
Neo-Realms | April 14, 2011, 12:58 pm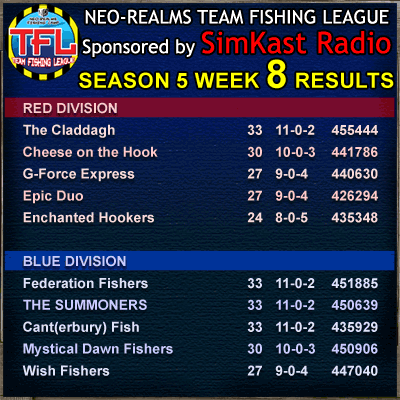 ---
Week 7 Results
Neo-Realms | April 5, 2011, 9:07 am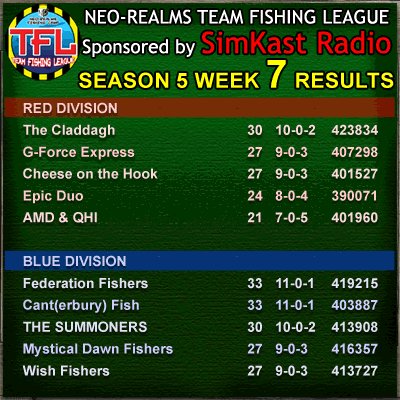 ---
Page 26
News Archive: 1 | 2 | 3 | 4 | 5 | 6 | 7 | 8 | 9 | 10 | 11 | 12 | 13 | 14 | 15 | 16 | 17 | 18 | 19 | 20 | 21 | 22 | 23 | 24 | 25 | 26 | 27 | 28 | 29 | 30 | 31 | 32 | 33 | 34 | 35 | 36 | 37 | 38 | 39 | 40 | 41 | 42 |