Week 2 Results
Neo-Realms | February 28, 2011, 12:05 pm
In the Blue Division, we have 5 teams all undefeated: Wish Fishers, Federation Fishers, THE SUMMONERS, The UnderCovers and Cookie Crew. In the Red Division, only 3 teams remain undefeated led by Cheese on the Hook, The Claddagh and Enchanted Hookers. Good luck to all teams this coming week!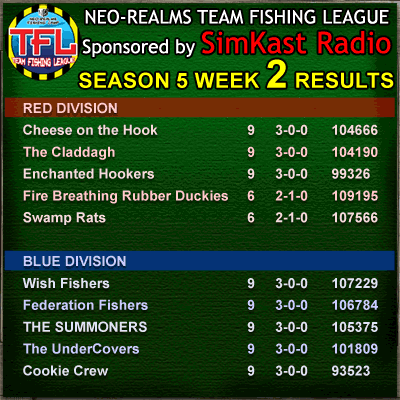 ---
Week 1 Results!
Neo-Realms | February 22, 2011, 2:10 pm
We're off and running with the first week's results in! On top of both divisions are Klassy Kiwi's and THE SUMMONERS with impressive 38k+ point totals each to start off the season!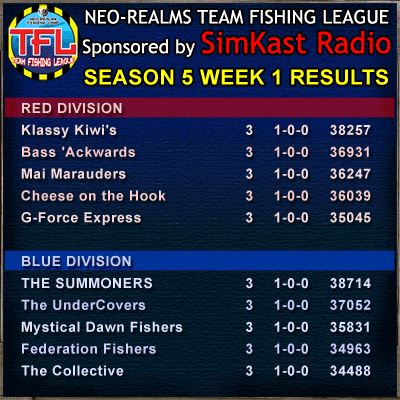 ---
Practice Mode matches will always be scheduled after real matches
Neo-Realms | February 15, 2011, 9:08 am
Please take care when you schedule a practice match: real matches will always be scheduled ahead of them on your Match Control Box. When you have no more real matches available, your practice matches will then be able to be fished.
---
TFL Season has begun!
Neo-Realms | February 14, 2011, 11:34 am
The TFL Season 5 Sponsored by SimKast has begun! Good luck to all teams involved! TFL teams: your first match is now available, and must be fished before the end of Sunday, February 20th. You also have your week 2 match available to fish if you need to get ahead. Matches will be available 2 weeks before they are due.

This season each player gets 119 levels to distribute, which averages out to 7 levels per match.

If you have any questions, please contact Sweegy Manilow. Good luck everyone! :)
---
Registration ends Sunday!
Neo-Realms | February 9, 2011, 11:24 am
Team Fishing League Season 5 registration ends on Sunday, so be sure to register on time! The TFL is a 10-week 2v2 team fishing league with tons of prizes! Registration costs $500 per player and is located in the Neo-Realms Store in Alston.

If you need any help finding a teammate, just let us know!


---