Season 9 Playoff Round 1 Results
Neo-Realms | June 1, 2015, 6:15 pm
The first round of a playoffs is over! B&B have defeated Mai Marauders, and Salubrius Vampyres have reached the final by defeating Catch with the Craft.

Our Season 9 TFL Finals are:

Salubrius Vampyres vs. B&B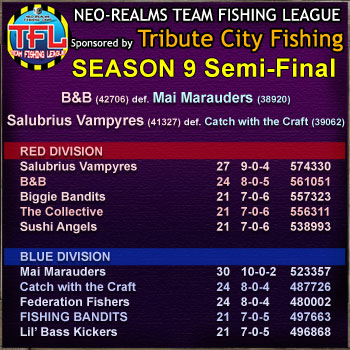 ---
Season 9 Week 10 Results
Neo-Realms | May 25, 2015, 9:34 am
The regular season is done! Congrats to Mai Marauders, Catch with the Craft, Federation Fishers, and FISHING BANDITS in Blue Division, and Salubrius Vampyres, B&B, Biggie Bandits and The Collective in Red Division for finishing in the prize money!

The first round of the playoffs are:

Salubrius Vampyres vs. Catch with the Craft

Mai Marauders vs. B&B

Good luck!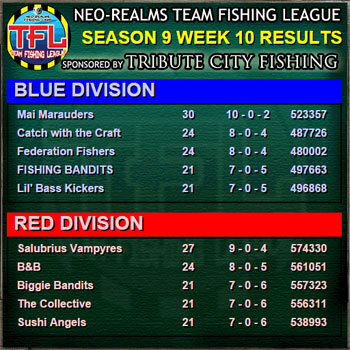 ---
Season 9 Week 9 Results
Neo-Realms | May 18, 2015, 5:00 am
Week 9 is done and we are down to the final week of regular season matches!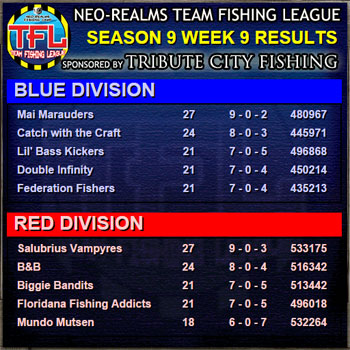 ---
Season 9 Week 8 Results
Neo-Realms | May 11, 2015, 1:14 am
Week 8 is in the books and Mai Marauders and Salubrius Vampyres still holding on to their leads in the Blue and Red Divisions respectively. The regular season is winding down but even teams down the table may have a chance of qualifying for the playoffs if they go on a late win streak! Good luck to all teams this week!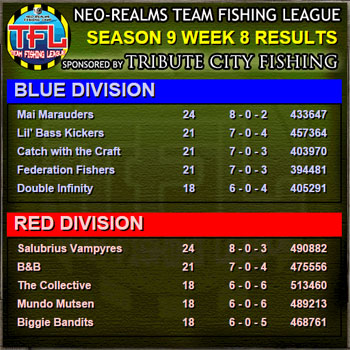 ---
Season 9 Week 7 Results
Neo-Realms | May 5, 2015, 4:11 pm
After week 7 we have 2 clear teams at the top of each division, holding on to a 3 point lead! In Blue Division: Mai Marauders tops the list, while in Red Division Salubrius Vampyres holds on to their 3 point lead. It's still extremely close in both divisions!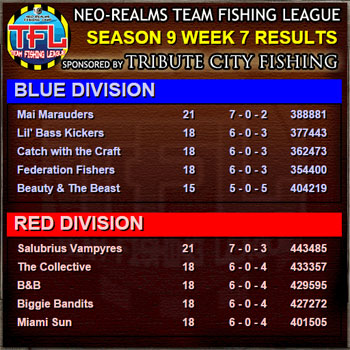 ---