If you are interested in sponsoring the TFL please contact Sweegy Manilow!

Blue Division
Team
P
W-D-L
The Fishing Canucks
18
6-0-1
The Worm Wiggler's
15
5-0-2
Double Trouble
12
4-0-3
Halibut Hags
10
3-1-3
Fish Wranglers
9
3-0-4
The Soot Sprites
9
3-0-4
Aquaholics Anonymous
6
2-0-5
Blues For Life
4
1-1-5
Red Division
Team
P
W-D-L
Keepin' it Reel
21
7-0-1
Cannafish
15
5-0-3
LipSmackers
15
5-0-3
Extreme Deuces
15
5-0-3
The Reel Deal
15
5-0-3
Galaxy Fishers
12
4-0-4
Lil' Bass Kickers
9
3-0-5
Bucc Fishers
3
1-0-7
OFF THE DOCK
3
1-0-7



Week 3 Results
Neo-Realms | April 13, 2010, 9:01 am
At the end of week 3 it's the Swamp Rats who narrowly lead Blue Division on total points, with Assimilated Fishing Addicts and Extreme Deuces sharing the number of wins, but with a game in hand. In the red division, it's The UnderCovers with a slight total points lead, followed by The Wild Dream Team and AM Designs/Quality Host Inc. Good luck to all teams this week!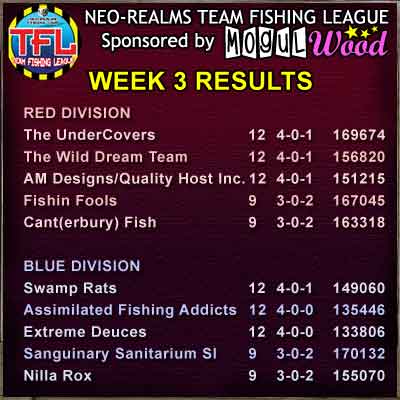 ---
Week 2 Results!
Neo-Realms | April 6, 2010, 12:05 pm
Week two is over! After three matches played, only Full Moondo and AM Designs/Quality Host in the Red Division, and Extreme Deuces in the Blue division remain undefeated in the top 5! Good luck to all teams in the coming week!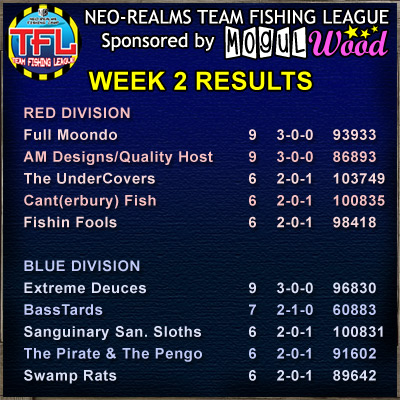 ---
Logo loading
Neo-Realms | April 1, 2010, 1:11 pm
If your logo isn't showing up correctly on the website, please let Sweegy Manilow or Shannah Halberd know. Thanks!
---
Week One Results Posted!
Neo-Realms | March 30, 2010, 11:45 am
Week one is over, well done everyone! Most teams have two matches due this week, if not, you have a bye this week. Good luck to all! :)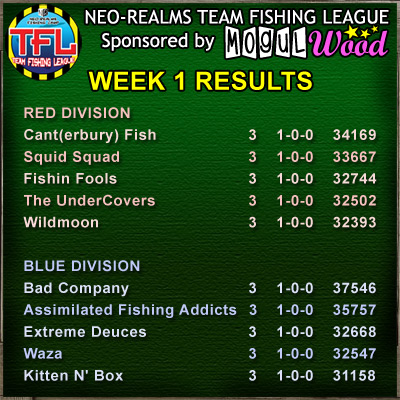 ---
TFL Season 4 is underway!
Neo-Realms | March 23, 2010, 12:18 am
The first matches are ready to be played! Your team levels have been set and average out to SIX per match. Blue division has 21 teams, so that is 126 levels per player. Red division has 22 teams and has 132 levels per player. This is 6 per player, not just team. Good luck to all the teams! If you do not see the same number of matches as other teams that week, you may have a bye that week.
---
Page 40
News Archive: 1 | 2 | 3 | 4 | 5 | 6 | 7 | 8 | 9 | 10 | 11 | 12 | 13 | 14 | 15 | 16 | 17 | 18 | 19 | 20 | 21 | 22 | 23 | 24 | 25 | 26 | 27 | 28 | 29 | 30 | 31 | 32 | 33 | 34 | 35 | 36 | 37 | 38 | 39 | 40 | 41 | 42 | 43 | 44 | 45 | 46 | 47 | 48 | 49 | 50 | 51 |