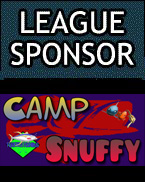 Blue Division
Team
P
W-D-L
Federation Fishers
27
9-0-2
Double Trouble
21
7-0-4
Upstream
21
7-0-4
The Adventurers
18
6-0-5
The Claddagh
18
6-0-5
The Collective
15
5-0-6
Grumpy Old Men
15
5-0-6
Fishy Siblings
15
5-0-6
Crystal Lake Crew
15
5-0-6
LipSmackers
12
4-0-7
The Summoners
12
4-0-7
Reel Screamers
9
3-0-8
Red Division
Team
P
W-D-L
Femme Fatale Fishers
24
8-0-3
The Blues Fishers
24
8-0-3
Camp Snuffy's Team
24
8-0-3
Anarchy Sharks
21
7-0-4
Extreme Deuces
18
6-0-5
GALAXY FISHERS
18
6-0-5
The Lushes
18
6-0-5
Fishing With The Blues
17
5-2-4
Lil' Bass Kickers
15
5-0-6
Mutsen Inc.
12
4-0-7
Plunder Mateys
4
1-1-9
Fairhaven Fishers
1
0-1-10



TFL Season Starting April 20th!
Neo-Realms | April 15, 2009, 10:57 am
TFL Season 3 Sponsored by My Playground is almost here! Here are some notes on the upcoming season:
Team Deadlines:
Registration is nearing a close (April 19th), so if you haven't registered please do so! Also, if you still need a teammate be sure to visit your TFL stats page and look for another player to team up with!
Season Start:
The season will begin on April 20th. On April 20th, teams will be split up into two divisions, based on the order they were created. Below is a chart that has the start and deadline dates of the season:
| | | |
| --- | --- | --- |
| Week Num | Start Date | Deadline Date |
| 1 | 2009-04-20 | 2009-04-26 |
| 2 | 2009-04-20 | 2009-05-03 |
| 3 | 2009-04-27 | 2009-05-10 |
| 4 | 2009-05-04 | 2009-05-17 |
| 5 | 2009-05-11 | 2009-05-24 |
| 6 | 2009-05-18 | 2009-05-31 |
| 7 | 2009-05-25 | 2009-06-07 |
| 8 | 2009-06-01 | 2009-06-14 |
| 9 | 2009-06-08 | 2009-06-21 |
| 10 | 2009-06-15 | 2009-06-28 |
| 11 | 2009-06-22 | 2009-07-05 |
| 12 | 2009-06-29 | 2009-07-12 |
| 13 | 2009-07-06 | 2009-07-19 |
| 14 (semi-finals) | 2009-07-20 | 2009-07-26 |
| 15 (TFL finals) | 2009-07-27 | 2009-08-02 |
If you are new to the TFL, the Start Date indicates when a league match will be available to you. You must complete the match before the Deadline Date in order for your points to count. At the end of the deadline date, the scores will be posted on the results page and the standings will be adjusted. There is a window of two weeks between the Start Date and the Deadline after Week 1 to give you the maximum flexibility in when to schedule your matches. Currently we have about 25 teams per division, so you will be looking at around 2 per Match week to complete.
Levels:
Once the season starts, you will get 6 level points per match to be played for the season. You may allocate these points however you wish (up to 15 max) for the game. However, the 6 per match does not count the final tournament weeks 14 and 15, so you will need to decided whether to hold out level points for those games or not.
Good luck to everyone this year, and if you have any questions please contact Sweegy Manilow!
---
Teammate help!
Neo-Realms | April 9, 2009, 10:37 am
If you have registered and still haven't created a team or found a teammate yet, please contact Sweegy Manilow for assistance. You can also log into your personal TFL page and look at available players and send them messages and invites.
---
Already started your team? Try some practice matches!
Neo-Realms | March 27, 2009, 9:10 am
If you have already registered and created your team, try some practice matches! To do so, log into your team's TFL page, and click on the "Schedule Practice Match" link. You can then set your desired test levels for the match. Once you're done, click "SCHEDULE PRACTICE" to create the match. You can then wear your TFL Control box in-world to begin the match!
---
TFL Season 3 Registration is Now Open!
Neo-Realms | March 21, 2009, 5:44 pm
Season 3 of the Neo-Realms Team Fishing League is now open for registrations! You can register at a TFL vendor in Hearts Enchanted or Alston. Registration is $600 per person and all proceeds go to the prize pool. Two people per team. Over $28,000L + prize pool in prizes! Matches begin on April 19th!

Some new changes this year: in order to have less matches to play, there will be 2 divisions of teams that will play each other. There will be prizes given to the top 5 of each division. Then the top 2 in each division will have a playoff for the TFL League Champion, and all 4 will receive additional prizes.

Some 5.0 features have been added to the TFL rods as well, including autocasting the next cast and support for the tacklebox bait system.

Remember, you can schedule practice matches on your personal TFL page, so be sure to schedule some practices to learn how the matches will work! Good luck to everyone! :)
---
Season 3 Registrations Will Be Opening Soon!
Neo-Realms | March 16, 2009, 8:55 pm
Stay tuned, Season 3 registrations will begin soon! You will be able to register in Hearts Enchanted or Alston camps. Registration is $600 and will be going 100% to the prize pool for winners. This year there will be 2 divisions to ease the number of matches. At the end of the season, the top 5 winners will be given prizes, and the top 2 teams of each division will have a playoff for the TFL League Winner. More info on the about page!
---
Page 39
News Archive: 1 | 2 | 3 | 4 | 5 | 6 | 7 | 8 | 9 | 10 | 11 | 12 | 13 | 14 | 15 | 16 | 17 | 18 | 19 | 20 | 21 | 22 | 23 | 24 | 25 | 26 | 27 | 28 | 29 | 30 | 31 | 32 | 33 | 34 | 35 | 36 | 37 | 38 | 39 | 40 | 41 | 42 | 43 | 44 |