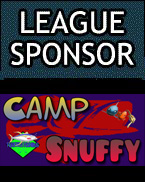 Blue Division
Team
P
W-D-L
Federation Fishers
9
3-0-0
LipSmackers
6
2-0-1
The Claddagh
6
2-0-1
Crystal Lake Crew
6
2-0-1
Double Trouble
6
2-0-1
The Adventurers
6
2-0-1
Upstream
6
2-0-1
Grumpy Old Men
3
1-0-2
Reel Screamers
3
1-0-2
The Summoners
3
1-0-2
Fishy Siblings
0
0-0-3
The Collective
0
0-0-3
Red Division
Team
P
W-D-L
Lil' Bass Kickers
9
3-0-0
GALAXY FISHERS
6
2-0-1
Fishing With The Blues
6
2-0-1
Femme Fatale Fishers
6
2-0-1
The Lushes
6
2-0-1
Camp Snuffy's Team
6
2-0-1
Extreme Deuces
3
1-0-2
Mutsen Inc.
3
1-0-2
The Blues Fishers
3
1-0-2
Anarchy Sharks
3
1-0-2
Plunder Mateys
3
1-0-2
Fairhaven Fishers
0
0-0-3



Week 5 Deadline Sunday 6/1/2008
Neo-Realms | May 30, 2008, 1:36 pm
Matches 14, 15 and 16 due this week. Good luck!
---
TFL Week 4 Action!
Neo-Realms | May 26, 2008, 10:50 pm
The Brasshunters keep up their undefeated run and have a 9 point lead on the competition, while there is a 5 way tie in points behind them! The UnderDogs, Crocodile Style and Dragon Hearts have the upper hand on points, but both The Royals and The Winter Rats have a game in hand which could make a difference later on for the top spots! Right beneath the gold spots is a 4 way tie only 3 points off the golds, with The Guppy Yuppies, Chaotic Kitties, The Fishing Bandits and The Epic Catchers looking for advancement. The Epic Catchers also have a game in hand, so options for advancement are still open!
---
Week 4 Deadline Sunday 5/26/2008
Neo-Realms | May 23, 2008, 9:11 am
A light week this week, just matches 12 and 13 due so you can enjoy your Memorial Day!
---
Third Week deadline Sunday 5/18/2008
Neo-Realms | May 16, 2008, 1:48 pm
Matches 8, 9, 10 and 11 are due at the end of Sunday, so be sure to get your fish on! Don't worry if things are not going your way yet, there's still 40 matches to go so plenty of time to make up some lost points!
---
Second Week deadline Sunday 5/11/2008
Neo-Realms | May 9, 2008, 2:43 pm
Be sure to get matches 4,5,6 and 7 done by the end of Sunday if you have them! Good luck!
---
Page 39
News Archive: 1 | 2 | 3 | 4 | 5 | 6 | 7 | 8 | 9 | 10 | 11 | 12 | 13 | 14 | 15 | 16 | 17 | 18 | 19 | 20 | 21 | 22 | 23 | 24 | 25 | 26 | 27 | 28 | 29 | 30 | 31 | 32 | 33 | 34 | 35 | 36 | 37 | 38 | 39 | 40 | 41 |