If you are interested in sponsoring the TFL please contact Sweegy Manilow!

Blue Division
Team
P
W-D-L
The Fishing Canucks
18
6-0-1
The Worm Wiggler's
15
5-0-2
Double Trouble
12
4-0-3
Halibut Hags
10
3-1-3
Fish Wranglers
9
3-0-4
The Soot Sprites
9
3-0-4
Aquaholics Anonymous
6
2-0-5
Blues For Life
4
1-1-5
Red Division
Team
P
W-D-L
Keepin' it Reel
21
7-0-1
Cannafish
15
5-0-3
LipSmackers
15
5-0-3
Extreme Deuces
15
5-0-3
The Reel Deal
15
5-0-3
Galaxy Fishers
12
4-0-4
Lil' Bass Kickers
9
3-0-5
Bucc Fishers
3
1-0-7
OFF THE DOCK
3
1-0-7



Season 3 Registrations Will Be Opening Soon!
Neo-Realms | March 16, 2009, 8:55 pm
Stay tuned, Season 3 registrations will begin soon! You will be able to register in Hearts Enchanted or Alston camps. Registration is $600 and will be going 100% to the prize pool for winners. This year there will be 2 divisions to ease the number of matches. At the end of the season, the top 5 winners will be given prizes, and the top 2 teams of each division will have a playoff for the TFL League Winner. More info on the about page!
---
THE SEASON 2 FINAL RESULTS!
Neo-Realms | August 11, 2008, 8:16 am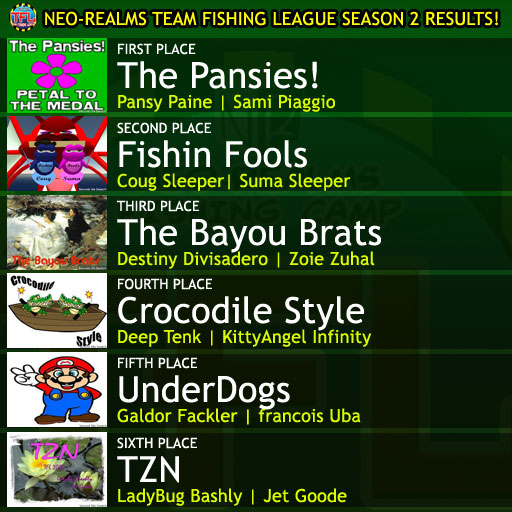 Congratulations to The Pansies for winning the league this year! It was an extremely close race, separated by only one win!

A very special thanks to all of our teams who participated this season, as well as our sponsors who helped make this all possible!

I hope everyone had a lot of fun, and will post more news and info about future league events and seasons here!
---
LAST DAY!
Neo-Realms | August 10, 2008, 10:45 am
Good luck to all teams! :)
---
THE FINAL WEEK OF THE SEASON!
Neo-Realms | August 5, 2008, 9:32 am
This is it, we're down to the final week of the season! There's potentially 12 points up for grabs! Currently the Pansies are holding on to a narrow 3 point lead, followed by the Fishin Fools. The UnderDogs are only 3 points behind them, and 3 points behind the UnderDogs are Crocodile Style and Bayou Brats. Dragon Hearts is holding on the the final gold spot, but MoFishMoFun are tied with them but just a little behind on total points. Just under them is a 5-way tie at 93 points with TZN, Bass Tards, Crazy Fishers, Epic Catches, and Woozl&Wildcat. It should make for an interesting final week!
---
Two weeks left!
Neo-Realms | July 28, 2008, 9:04 am
Two more weeks left of matches to be played, this next week due on 8/4 and the final week ending 8/11! Good luck to all teams!
---
Page 47
News Archive: 1 | 2 | 3 | 4 | 5 | 6 | 7 | 8 | 9 | 10 | 11 | 12 | 13 | 14 | 15 | 16 | 17 | 18 | 19 | 20 | 21 | 22 | 23 | 24 | 25 | 26 | 27 | 28 | 29 | 30 | 31 | 32 | 33 | 34 | 35 | 36 | 37 | 38 | 39 | 40 | 41 | 42 | 43 | 44 | 45 | 46 | 47 | 48 | 49 | 50 | 51 |