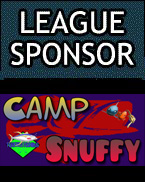 Blue Division
Team
P
W-D-L
Extreme Deuces
24
8-0-2
AceOfSpades
21
7-0-3
Federation Fishers
21
7-0-3
Crystal Lake Crew
21
7-0-3
GALAXY FISHERS
15
5-0-5
Femme Fatale Fishers
12
4-0-6
Pescadoras Calientes
12
4-0-6
Sushi Angels
12
4-0-6
Gone Fishin'
12
4-0-6
What's The Catch?
12
4-0-6
Blue Waffles
3
1-0-9
Red Division
Team
P
W-D-L
Cookie Casters
24
8-0-2
The Cohenites
18
6-0-4
Keeping it Reel
18
6-0-4
Rag Doll Cats
18
6-0-4
The Collective
18
6-0-4
Camp Snuffy
18
6-0-4
Double Trouble
12
4-0-6
Lil' Bass Kickers
12
4-0-6
Summer Bay Bandits
12
4-0-6
Grumpy Old Men
9
3-0-7
DaCastadagz
6
2-0-8



Beta Testing Done, Registrations will open Monday, March 17th!
Neo-Realms | March 15, 2008, 12:53 pm
Beta testing is complete, so TFL Season 2 is ready to go! Registrations will be opening at Hearts and Alston on Monday, March 17th, and the season will start on April 28th! To learn how to register and get started, click here! Sponsorship opportunities are also available, for more information on those click here. Feel free to contact Sweegy Manilow or Deanna Gregoire with any questions!
---
Welcome to the TFL 4.0!
Sweegy | February 5, 2008, 9:22 am
The TFL 4.0 coding is complete, and beta testing will be underway soon! Look for registrations to open in March, and the first match to start in April!
---
Page 47
News Archive: 1 | 2 | 3 | 4 | 5 | 6 | 7 | 8 | 9 | 10 | 11 | 12 | 13 | 14 | 15 | 16 | 17 | 18 | 19 | 20 | 21 | 22 | 23 | 24 | 25 | 26 | 27 | 28 | 29 | 30 | 31 | 32 | 33 | 34 | 35 | 36 | 37 | 38 | 39 | 40 | 41 | 42 | 43 | 44 | 45 | 46 | 47 |