If you are interested in sponsoring the TFL please contact Sweegy Manilow!

Blue Division
Team
P
W-D-L
The Fishing Canucks
18
6-0-1
The Worm Wiggler's
15
5-0-2
Double Trouble
12
4-0-3
Halibut Hags
10
3-1-3
Fish Wranglers
9
3-0-4
The Soot Sprites
9
3-0-4
Aquaholics Anonymous
6
2-0-5
Blues For Life
4
1-1-5
Red Division
Team
P
W-D-L
Keepin' it Reel
21
7-0-1
Cannafish
15
5-0-3
LipSmackers
15
5-0-3
Extreme Deuces
15
5-0-3
The Reel Deal
15
5-0-3
Galaxy Fishers
12
4-0-4
Lil' Bass Kickers
9
3-0-5
Bucc Fishers
3
1-0-7
OFF THE DOCK
3
1-0-7



CONGRATS TO TFL SEASON 4 WINNERS THE UNDERCOVERS!
Neo-Realms | June 28, 2010, 11:49 am
A big congratulations to The UnderCovers, the TFL Season 4 Champions for this year!

It was a hard-fought campaign and made for an exciting season! A special thanks to all of our sponsors, and to all who participated. See you again next season!

Winnings teams: your prizes will be distributed within the next couple of days.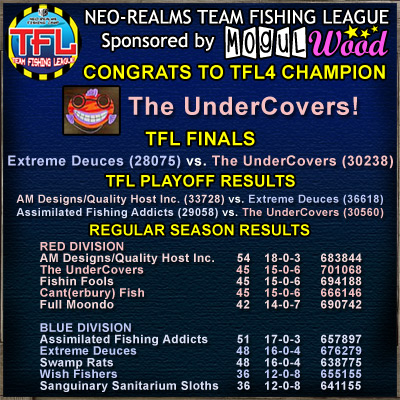 ---
Finals this Week!
Neo-Realms | June 21, 2010, 10:26 am
Congrats to Extreme Deuces and The UnderCovers who advance to the finals this week!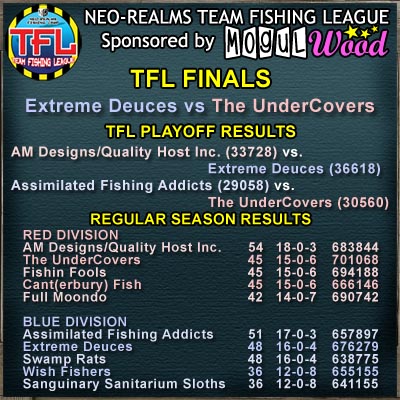 ---
Week 11 Results and Beginning of Playoffs!
Neo-Realms | June 15, 2010, 12:00 pm
The regular season is over!

In Blue Division: Assimilated Fishing Addicts easily reach the playoffs, while Extreme Deuces barely edge over Swamp Rats just on total points.

In Red Divison: AM Designs/Quality Host Inc. cruise into the playoffs while The UnderCovers secure a playoff space just barely above Fishin Fools and Cant(erbury) Fish. The tie was broken by only 6880 total points!

For the 4 teams involved in playoffs, matches will be available soon and must be finished by Monday, June 21st. Then the final remaining teams will have the final to be played by Monday, June 28th.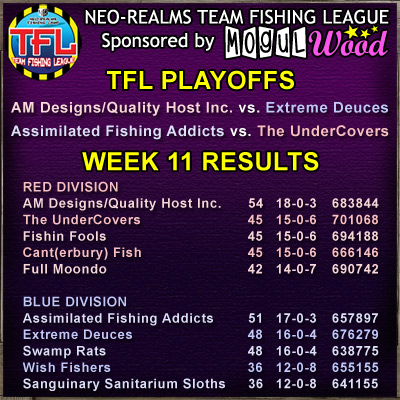 ---
Week 10 Results
Neo-Realms | June 2, 2010, 12:56 pm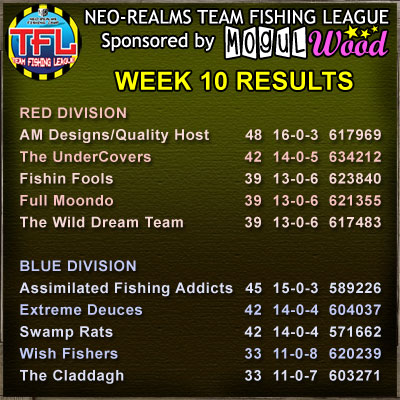 ---
Week 9 Results
Neo-Realms | May 28, 2010, 8:55 am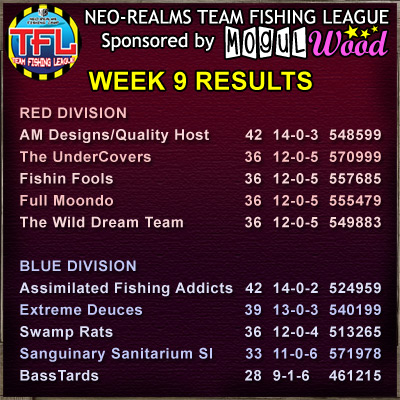 ---
Page 38
News Archive: 1 | 2 | 3 | 4 | 5 | 6 | 7 | 8 | 9 | 10 | 11 | 12 | 13 | 14 | 15 | 16 | 17 | 18 | 19 | 20 | 21 | 22 | 23 | 24 | 25 | 26 | 27 | 28 | 29 | 30 | 31 | 32 | 33 | 34 | 35 | 36 | 37 | 38 | 39 | 40 | 41 | 42 | 43 | 44 | 45 | 46 | 47 | 48 | 49 | 50 | 51 |