If you are interested in sponsoring the TFL please contact Sweegy Manilow!

Blue Division
Team
P
W-D-L
The Fishing Canucks
18
6-0-1
The Worm Wiggler's
15
5-0-2
Double Trouble
12
4-0-3
Halibut Hags
10
3-1-3
Fish Wranglers
9
3-0-4
The Soot Sprites
9
3-0-4
Aquaholics Anonymous
6
2-0-5
Blues For Life
4
1-1-5
Red Division
Team
P
W-D-L
Keepin' it Reel
21
7-0-1
Cannafish
15
5-0-3
LipSmackers
15
5-0-3
Extreme Deuces
15
5-0-3
The Reel Deal
15
5-0-3
Galaxy Fishers
12
4-0-4
Lil' Bass Kickers
9
3-0-5
Bucc Fishers
3
1-0-7
OFF THE DOCK
3
1-0-7



Regular Season is Over! League Semi-final Playoffs are underway!
Neo-Realms | July 20, 2009, 12:00 pm
Congrats to the top 5 teams in each division who finished in the money! The playoffs begin this week with Red Champions Team McDonnell taking on Blue runner-up The Claddagh, and Blue Champions Fishin Fools taking on Red runner-up Extreme Deuces. Results will be posted Monday! Good luck to the playoff teams!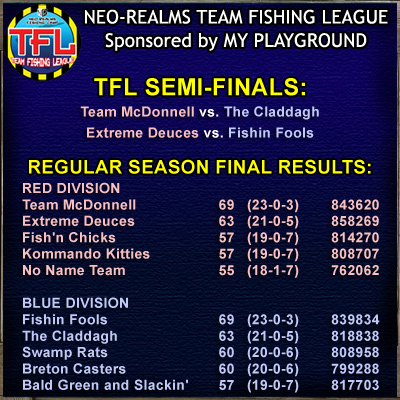 ---
Week 12 Results: FINAL WEEK BEFORE PLAYOFFS IS HERE!
Neo-Realms | July 13, 2009, 8:47 am

Two matches are all that remains to battle for the top prizes! In Red Division, Team McDonnell are assured a spot in the playoffs after a strong season, and runner-up is a toss-up between Extreme Deuces, Fish'n Chicks, Kommando Kitties and No Name Team! Howling Banshees, Deadly & Delicious, Dreaming Team, and Bass Tards are also playing to advance up into the money position.

In Blue Division, it's very close, with Fishin Fools on top. Breton Casters, The Claddagh and Swamp Rats still have a chance to take the top position. Bald Green and Slackin' sits in the 5th money position, with Furious Felines and Fish Munchers having a chance to get into the money places.

Good luck to all teams for the final two matches this week! After the final two matches are posted, the playoff matches will be posted for completion by next Monday. After those matches are completed, the final match will be posted for completion by the next week.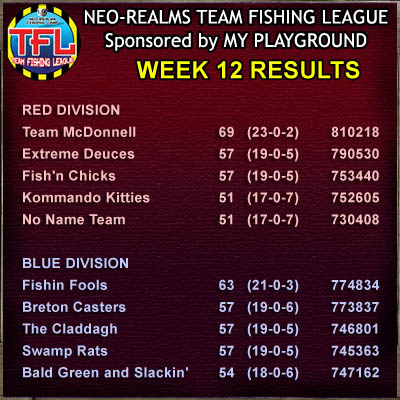 ---
Week 11 Results
Neo-Realms | July 13, 2009, 8:47 am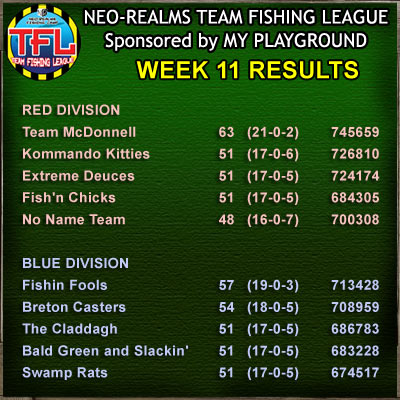 ---
Week 10 Results
Neo-Realms | July 11, 2009, 9:49 pm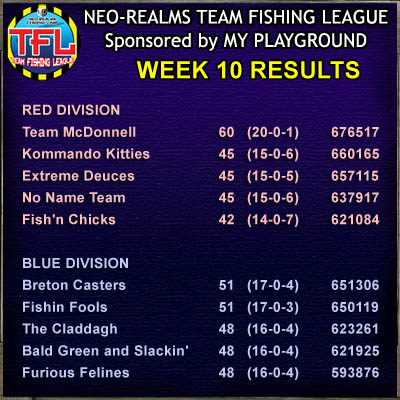 ---
Week 9 Results
Neo-Realms | June 24, 2009, 11:21 am
In Red Division, Team McDonnell keeps their lead on several teams only separated by total points. In Blue Division: Fishin Fools move up to tie Breton Casters with a game in hand, but Breton Casters has the total points lead.

It's still very close, with two more to play this week and only four weeks left in the season! Good luck, teams!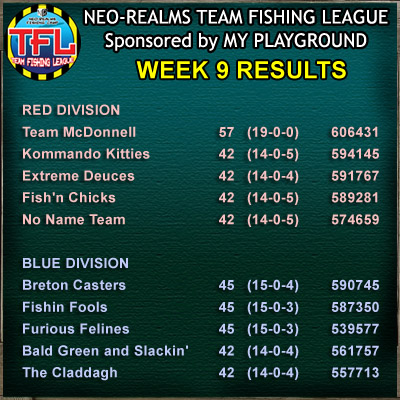 ---
Page 43
News Archive: 1 | 2 | 3 | 4 | 5 | 6 | 7 | 8 | 9 | 10 | 11 | 12 | 13 | 14 | 15 | 16 | 17 | 18 | 19 | 20 | 21 | 22 | 23 | 24 | 25 | 26 | 27 | 28 | 29 | 30 | 31 | 32 | 33 | 34 | 35 | 36 | 37 | 38 | 39 | 40 | 41 | 42 | 43 | 44 | 45 | 46 | 47 | 48 | 49 | 50 | 51 |