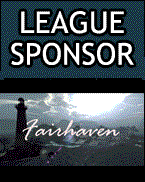 Blue Division
Team
P
W-D-L
Grumpy Old Men
18
6-0-3
THE SUMMONERS
18
6-0-3
Sushi Angels
18
6-0-3
Jus A Bugs' Life
15
5-0-4
Lil' Bass Kickers
15
5-0-4
The Collective
15
5-0-4
Bacon Bandits
12
4-0-5
The Claddagh
12
4-0-5
Femme Fatale Fishers
6
2-0-7
The Blues Fishers
6
2-0-7
Red Division
Team
P
W-D-L
Fish Hookers
18
6-0-4
The Adventurers
18
6-0-4
Double Trouble
18
6-0-4
Feeling Nauti
18
6-0-4
Fish Nuts
18
6-0-4
Extreme Deuces
18
6-0-4
The Golden Rods
15
5-0-5
Rainbow Trouts
15
5-0-5
LipSmackers
15
5-0-5
Crystal Lake Crew
12
4-0-6
The Pobieski Factor
0
0-0-10



Season 4 TFL Registration Open!
Neo-Realms | February 25, 2010, 12:40 pm
TFL Registration is now open in Alston! Registration is $500 per person and will end Monday, March 22nd. Feel free to take a copy of the TFL info board next to the registration vendor, it will update with TFL scores and news weekly!
---
Season 4 Dates
Neo-Realms | February 24, 2010, 2:19 pm
Registration will begin this week!
Registration will end March 22nd.
First week's matches will be due Monday, March 29th.
Season will go until June 14th, then two weeks of playoffs will start.

More details to come soon!
---
Registration starting soon!
Neo-Realms | February 19, 2010, 10:20 am
Season 4 Team Fishing League sponsored by MogulWood will begin registration next week! Stay tuned for more info!
---
Season 4 registration opening soon!
Neo-Realms | February 17, 2010, 2:32 pm
Season 4 reg will be available in the coming days! Stay tuned to the website for more details! Season 4 is sponsored by our newest game MogulWood! MogulWood is a multiplayer movie trivia and studio simulator HUD game for Second Life! Create your own movies and run your studio with your friends! For more info click on the link above or on the side!
---
CONGRATS TO THE CLADDAGH, CHAMPIONS OF SEASON 3!
Neo-Realms | August 3, 2009, 8:19 pm
Season 3's winner is The Claddagh! Congrats to Gabe Fitzsimmons and Alicia Czukor!

Thank you so much everyone who participated in Season 3! Hope you all had a lot of fun! A Season 4 (mini-season with 4 divisions and less games) may be just around the corner, so keep an eye out in this space for more details!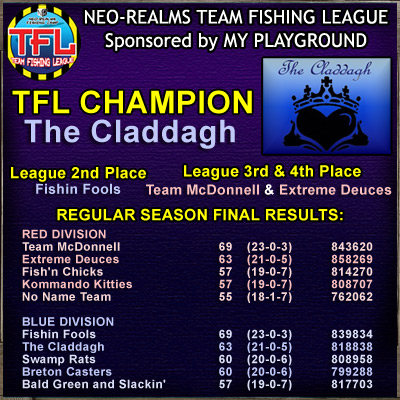 Once again a very special thanks to our league sponsor MY PLAYGROUND, and our platinum sponsors: The Metaverse Messenger, Club McDonnell, Valentines Island, Club Extreme, Val's Recreation Center, and Halberd Images!
---
Page 31
News Archive: 1 | 2 | 3 | 4 | 5 | 6 | 7 | 8 | 9 | 10 | 11 | 12 | 13 | 14 | 15 | 16 | 17 | 18 | 19 | 20 | 21 | 22 | 23 | 24 | 25 | 26 | 27 | 28 | 29 | 30 | 31 | 32 | 33 | 34 | 35 | 36 | 37 | 38 | 39 | 40 |