TFL Season 11 is now Underway!
Neo-Realms | February 27, 2017, 12:32 am
The schedules are posted and matches are now ready to be played for Season 11 of the TFL sponsored by Kultivate Magazine! Be sure to complete your first match before Monday, March 7th! Good luck to all teams!
---
TFL Registration ends Sunday!
Neo-Realms | February 24, 2017, 7:56 am
Just a reminder to be sure the finalize your TFL teams by this weekend! The final day for registration is Sunday, and matches begin Monday!
---
TFL Season 11 sponsored by Kultivate Magazine is open for registration!
Neo-Realms | February 11, 2017, 2:33 am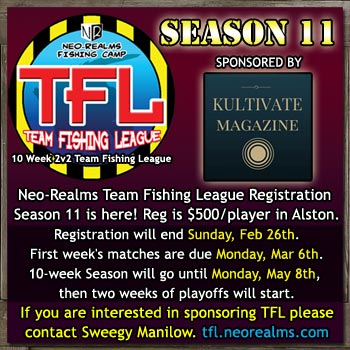 TFL Registration is now open in Alston! Registration is $500L per person and will end Sunday, Feb 26th. Feel free to take a copy of the TFL info board next to the registration vendor, it will update with TFL scores and news weekly!

The Neo-Realms Team Fishing League (TFL) is a competitive, team-based tournament league for Neo-Realms Fishing. Players compete in 2v2 matches over the course of a season, with over $12,500L + all registration fees in prizes going to the top teams and league victors. Grab a partner and register today!
---
Badges Ready!
Neo-Realms | June 13, 2016, 4:01 am
Hello TFL participants, your badges for competing in the TFL are ready and available on your Achievement Hats.
---
Participation Drawing Winner: Atomic Duo
Neo-Realms | May 24, 2016, 6:38 pm
Congrats to Atomic Duo, winners of this years participation drawing!

Thanks everyone for a great Season 10 and we'll see you next time!
---