Week One Results Posted!
Neo-Realms | March 30, 2010, 11:45 am
Week one is over, well done everyone! Most teams have two matches due this week, if not, you have a bye this week. Good luck to all! :)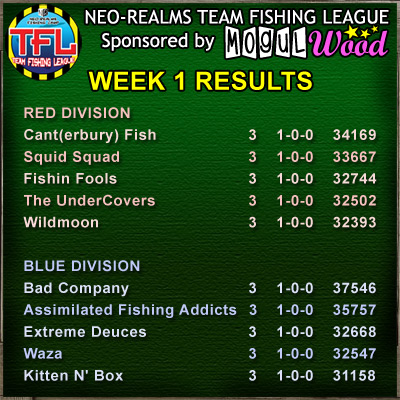 ---
TFL Season 4 is underway!
Neo-Realms | March 23, 2010, 12:18 am
The first matches are ready to be played! Your team levels have been set and average out to SIX per match. Blue division has 21 teams, so that is 126 levels per player. Red division has 22 teams and has 132 levels per player. This is 6 per player, not just team. Good luck to all the teams! If you do not see the same number of matches as other teams that week, you may have a bye that week.
---
Last Day for TFL Registration!
Neo-Realms | March 22, 2010, 10:07 am
Today is it! Please make sure you are registered and on a completed team by 10:00pm tonight. If you still need a teammate, log in to your TFL page from the control box to find a teammate. If you have not found a teammate or completed a team by 10pm, then you will get a refund. The first match will be available for play on Tuesday, to be completed by next Sunday.
---
Last week to register for Team Fishing League!
Neo-Realms | March 15, 2010, 9:54 pm
The TFL Season begins March 22, so hurry up and register if you have not done so! The TFL Registration vendor is located on the side of the NR Store in Alston.
---
Season 4 TFL Registration Open!
Neo-Realms | February 25, 2010, 12:40 pm
TFL Registration is now open in Alston! Registration is $500 per person and will end Monday, March 22nd. Feel free to take a copy of the TFL info board next to the registration vendor, it will update with TFL scores and news weekly!
---