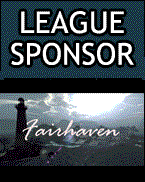 Blue Division
Team
P
W-D-L
Grumpy Old Men
18
6-0-3
THE SUMMONERS
18
6-0-3
Sushi Angels
18
6-0-3
Jus A Bugs' Life
15
5-0-4
Lil' Bass Kickers
15
5-0-4
The Collective
15
5-0-4
Bacon Bandits
12
4-0-5
The Claddagh
12
4-0-5
Femme Fatale Fishers
6
2-0-7
The Blues Fishers
6
2-0-7
Red Division
Team
P
W-D-L
Fish Hookers
18
6-0-4
The Adventurers
18
6-0-4
Double Trouble
18
6-0-4
Feeling Nauti
18
6-0-4
Fish Nuts
18
6-0-4
Extreme Deuces
18
6-0-4
The Golden Rods
15
5-0-5
Rainbow Trouts
15
5-0-5
LipSmackers
15
5-0-5
Crystal Lake Crew
12
4-0-6
The Pobieski Factor
0
0-0-10



THE FINAL WEEK OF THE SEASON!
Neo-Realms | August 5, 2008, 9:32 am
This is it, we're down to the final week of the season! There's potentially 12 points up for grabs! Currently the Pansies are holding on to a narrow 3 point lead, followed by the Fishin Fools. The UnderDogs are only 3 points behind them, and 3 points behind the UnderDogs are Crocodile Style and Bayou Brats. Dragon Hearts is holding on the the final gold spot, but MoFishMoFun are tied with them but just a little behind on total points. Just under them is a 5-way tie at 93 points with TZN, Bass Tards, Crazy Fishers, Epic Catches, and Woozl&Wildcat. It should make for an interesting final week!
---
Two weeks left!
Neo-Realms | July 28, 2008, 9:04 am
Two more weeks left of matches to be played, this next week due on 8/4 and the final week ending 8/11! Good luck to all teams!
---
Your levels left number should now be correct
Neo-Realms | June 26, 2008, 12:42 pm
Something went awry that caused some levels left to allocate to now be accurate. I've gone through the db and fixed this so you should have the correct amount of levels left for the season. :)
---
Week 6 Action!
Neo-Realms | June 12, 2008, 8:03 am
A lot of shakeups in the tables this week. Only losing 1 match of the 4, The Winter Rats move from second to first to lead the league and still have a game in hand. They are followed by a 4-way tie of The Pansies!, UnderDogs, The Fishing Bandits and Dragon Hearts. Below them is a 4-way tie of 42 points, with The Guppy Yuppies hanging on to last gold spot on total points, followed by the Brasshunters, Crocodile Style, TZN, The Epic Catchers and The Crazy Fishers.
---
Week 6 Deadline Sunday 6/8/2008
Neo-Realms | June 6, 2008, 9:36 am
Matches 17, 18, 19 and 20 due this week. Good luck!
---
Page 37
News Archive: 1 | 2 | 3 | 4 | 5 | 6 | 7 | 8 | 9 | 10 | 11 | 12 | 13 | 14 | 15 | 16 | 17 | 18 | 19 | 20 | 21 | 22 | 23 | 24 | 25 | 26 | 27 | 28 | 29 | 30 | 31 | 32 | 33 | 34 | 35 | 36 | 37 | 38 | 39 | 40 |