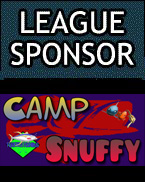 Blue Division
Team
P
W-D-L
Extreme Deuces
24
8-0-2
AceOfSpades
21
7-0-3
Federation Fishers
21
7-0-3
Crystal Lake Crew
21
7-0-3
GALAXY FISHERS
15
5-0-5
Femme Fatale Fishers
12
4-0-6
Pescadoras Calientes
12
4-0-6
Sushi Angels
12
4-0-6
Gone Fishin'
12
4-0-6
What's The Catch?
12
4-0-6
Blue Waffles
3
1-0-9
Red Division
Team
P
W-D-L
Cookie Casters
24
8-0-2
The Cohenites
18
6-0-4
Keeping it Reel
18
6-0-4
Rag Doll Cats
18
6-0-4
The Collective
18
6-0-4
Camp Snuffy
18
6-0-4
Double Trouble
12
4-0-6
Lil' Bass Kickers
12
4-0-6
Summer Bay Bandits
12
4-0-6
Grumpy Old Men
9
3-0-7
DaCastadagz
6
2-0-8



Week 4 Deadline Sunday 5/26/2008
Neo-Realms | May 23, 2008, 9:11 am
A light week this week, just matches 12 and 13 due so you can enjoy your Memorial Day!
---
Third Week deadline Sunday 5/18/2008
Neo-Realms | May 16, 2008, 1:48 pm
Matches 8, 9, 10 and 11 are due at the end of Sunday, so be sure to get your fish on! Don't worry if things are not going your way yet, there's still 40 matches to go so plenty of time to make up some lost points!
---
Second Week deadline Sunday 5/11/2008
Neo-Realms | May 9, 2008, 2:43 pm
Be sure to get matches 4,5,6 and 7 done by the end of Sunday if you have them! Good luck!
---
REMINDER: First week deadline Sunday 5/4/2008!
Neo-Realms | May 2, 2008, 9:55 am
Just a reminder, match numbers 1, 2 and 3 must be completed by the end of Sunday the 4th! (If you don't have 3 matches this week, you may have a bye for one of them.) The first scores and standings will be compiled on Monday. You can get a complete breakdown of which matches you are competing in and when by clicking on your personal TFL page and clicking on the fixtures list, or by visiting the schedules link on the top nav and looking for your team.
---
TFL Season Two is Underway!!!
Neo-Realms | April 28, 2008, 9:53 am
We're finally underway! When you log in to your TFL page, you should now be able to see your matches available for play. These will automatically be ready when you wear your TFL control box.

With 51 teams registered, the final prize pool is $51,000! Here are the final prize amounts for each winning team:

1st Place: $39,500
2nd Place: $19,750
3rd Place: $11,150
4th Place: $5,060
5th Place: $2,530
6th Place: $1,010

Good luck to all teams!
---
Page 45
News Archive: 1 | 2 | 3 | 4 | 5 | 6 | 7 | 8 | 9 | 10 | 11 | 12 | 13 | 14 | 15 | 16 | 17 | 18 | 19 | 20 | 21 | 22 | 23 | 24 | 25 | 26 | 27 | 28 | 29 | 30 | 31 | 32 | 33 | 34 | 35 | 36 | 37 | 38 | 39 | 40 | 41 | 42 | 43 | 44 | 45 | 46 | 47 |