If you are interested in sponsoring the TFL please contact Sweegy Manilow!

Blue Division
Team
P
W-D-L
The Fishing Canucks
18
6-0-1
The Worm Wiggler's
15
5-0-2
Double Trouble
12
4-0-3
Halibut Hags
10
3-1-3
Fish Wranglers
9
3-0-4
The Soot Sprites
9
3-0-4
Aquaholics Anonymous
6
2-0-5
Blues For Life
4
1-1-5
Red Division
Team
P
W-D-L
Keepin' it Reel
21
7-0-1
Cannafish
15
5-0-3
LipSmackers
15
5-0-3
Extreme Deuces
15
5-0-3
The Reel Deal
15
5-0-3
Galaxy Fishers
12
4-0-4
Lil' Bass Kickers
9
3-0-5
Bucc Fishers
3
1-0-7
OFF THE DOCK
3
1-0-7



Matches ready!
Neo-Realms | March 1, 2021, 5:38 pm
Matches are now ready to play for this season. Sorry for the delay, had a power outage on Sunday night. All matches are available to play at the start of the season, with postings each week of the season. Some weeks you may have a bye that week if you are in a division with an odd number of teams. Good luck to all teams!
---
TFL Season 15 Registration Underway
Neo-Realms | February 6, 2021, 6:39 pm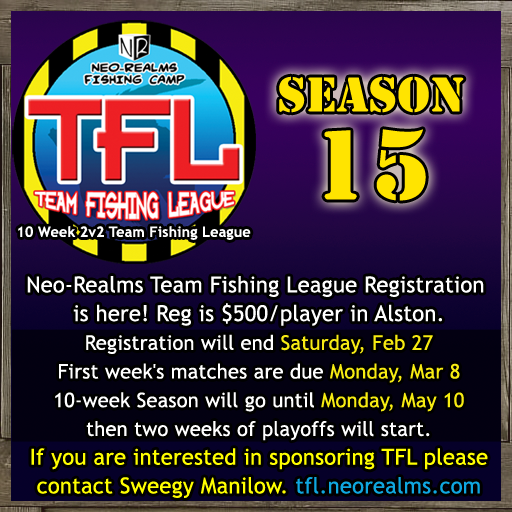 TFL Registration is now open in Alston! Registration is $500L per person and will end Sunday, Mar 24th. Feel free to take a copy of the TFL info board next to the registration vendor, it will update with TFL scores and news weekly!

The Neo-Realms Team Fishing League (TFL) is a competitive, team-based tournament league for Neo-Realms Fishing. Players compete in 2v2 matches over the course of a season, with over $12,500L + all registration fees in prizes going to the top teams and league victors. Grab a partner and register today!
---
TFL Season 14 Final Results
Neo-Realms | June 16, 2020, 8:25 am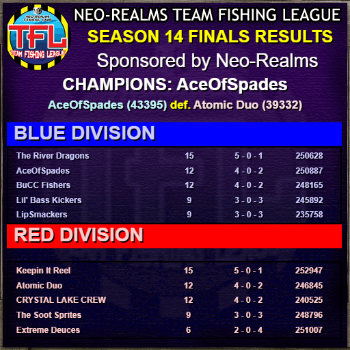 Congrats to AceOfSpades, the Season 14 champions! Thanks to everyone who participated this season.
---
TFL Season 14 Semi-final Results
Neo-Realms | June 12, 2020, 6:20 pm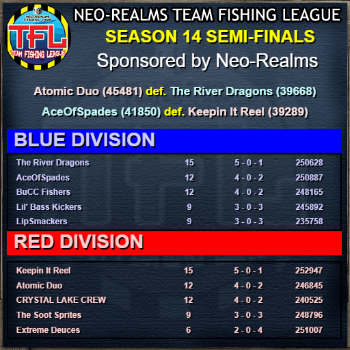 Finals are here!
Atomic Duo vs. AceOfSpades

---
TFL Season 14 Week 7 Results
Neo-Realms | June 2, 2020, 9:20 am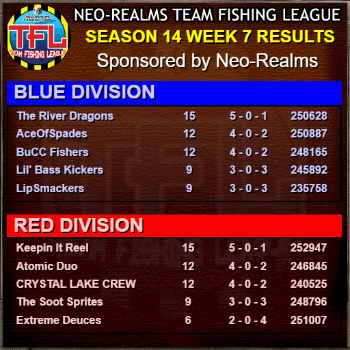 Playoffs are here!
The River Dragons vs. Atomic Duo
Keepin It Reel vs. AceOfSpades

---
Page 2
News Archive: 1 | 2 | 3 | 4 | 5 | 6 | 7 | 8 | 9 | 10 | 11 | 12 | 13 | 14 | 15 | 16 | 17 | 18 | 19 | 20 | 21 | 22 | 23 | 24 | 25 | 26 | 27 | 28 | 29 | 30 | 31 | 32 | 33 | 34 | 35 | 36 | 37 | 38 | 39 | 40 | 41 | 42 | 43 | 44 | 45 | 46 | 47 | 48 | 49 | 50 | 51 |