Week 1 Results!
Neo-Realms | February 20, 2012, 1:16 pm
We're off and running with the first week's results in! Big numbers were posted by Lazy Cats and G-Force Express in the Red Division with 40k+ points! Fishin' Fools and The Bings also lead Blue Division. This week has up to 2 matches being contested for the week. Good luck to all teams!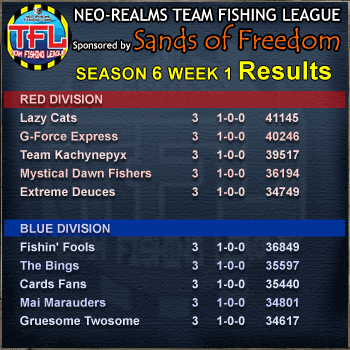 ---
Season 6 is Live!
Neo-Realms | February 16, 2012, 12:47 pm
Each player has received 114 levels for the season to spend as they see fit. The first matches must be completed by the end of Sunday, February 19th. The results of those matches will be posted Monday. Good luck to all teams this week!
---
TFL Registration Ends Sunday!
Neo-Realms | February 9, 2012, 11:59 am
If you have not registered for the Team Fishing League yet, the last day to register is Sunday! If you have any questions about the league, please contact Sweegy Manilow.
---
TFL Season 6 Registration coming soon!
Neo-Realms | January 11, 2012, 12:35 pm
Neo-Realms Team Fishing League Season 6 registration will begin on January 21st with the season starting February 13th! If you wish to become a sponsor of the TFL, please contact Sweegy Manilow or Shannah Halberd. We still have the full sponsorship (now $10k) and other categories available.
---
The Claddagh: Season 5 Champions!
Neo-Realms | May 10, 2011, 11:10 am
Congrats to The Claddagh for winning TFL Season 5! Thanks to all teams who participated, it was a great season! Prizes will be distributed this week.

A special thanks to SimKast Radio and our other sponsors for making this season possible!

For those of you that will need a team fishing fix before Season 6, we are working on a TFL-style system for regular rods that will allow you to participate in 2v2 team match-based elimination tourneys. Look for that in the near future!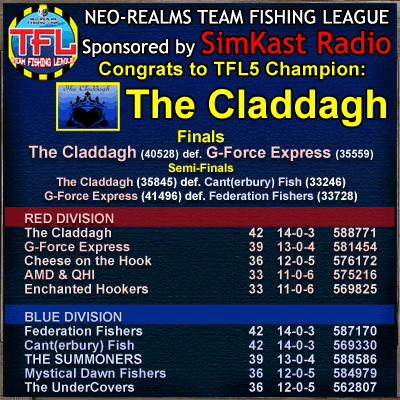 ---