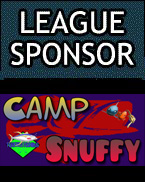 Blue Division
Team
P
W-D-L
Federation Fishers
21
7-0-0
Double Trouble
15
5-0-2
Upstream
15
5-0-2
Crystal Lake Crew
12
4-0-3
The Claddagh
12
4-0-3
The Collective
9
3-0-4
The Summoners
9
3-0-4
LipSmackers
9
3-0-4
The Adventurers
9
3-0-4
Grumpy Old Men
6
2-0-5
Fishy Siblings
6
2-0-5
Reel Screamers
3
1-0-6
Red Division
Team
P
W-D-L
Femme Fatale Fishers
18
6-0-1
Lil' Bass Kickers
15
5-0-2
Fishing With The Blues
13
4-1-2
GALAXY FISHERS
12
4-0-3
Extreme Deuces
12
4-0-3
The Blues Fishers
12
4-0-3
Camp Snuffy's Team
12
4-0-3
The Lushes
12
4-0-3
Anarchy Sharks
12
4-0-3
Mutsen Inc.
3
1-0-6
Plunder Mateys
3
1-0-6
Fairhaven Fishers
1
0-1-6



Week 9 Results!
Neo-Realms | April 18, 2012, 11:28 am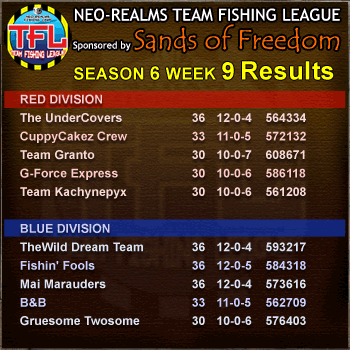 The last week of regular season matches are here, good luck to all teams!
---
Week 8 Results!
Neo-Realms | April 15, 2012, 1:16 pm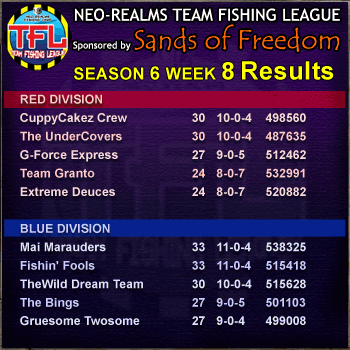 ---
Schedule Correction
Neo-Realms | April 11, 2012, 10:48 am
The schedule has been corrected for matches that erroneously showed up with the April 19th deadline, this has been fixed to show the correct April 16th date (usual Monday posting). If you have any questions, please contact Sweegy Manilow.
---
Week 7 Results!
Neo-Realms | April 5, 2012, 1:45 pm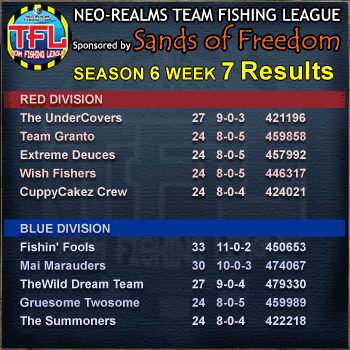 ---
Week 6 Results!
Neo-Realms | March 30, 2012, 10:26 am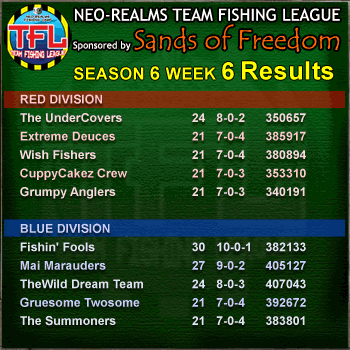 ---
Page 23
News Archive: 1 | 2 | 3 | 4 | 5 | 6 | 7 | 8 | 9 | 10 | 11 | 12 | 13 | 14 | 15 | 16 | 17 | 18 | 19 | 20 | 21 | 22 | 23 | 24 | 25 | 26 | 27 | 28 | 29 | 30 | 31 | 32 | 33 | 34 | 35 | 36 | 37 | 38 | 39 | 40 | 41 | 42 |