Last Day to Register Sunday!
Neo-Realms | February 28, 2013, 4:34 pm
Be sure to register and finalize your teams by Sunday! If you have any questions or problems, please contact Sweegy Manilow.
---
TFL Season 7 Registration is Open!
Neo-Realms | February 11, 2013, 2:05 pm
TFL Registration is now open in Alston! Registration is $500 per person and will end Sunday, March 3rd. Feel free to take a copy of the TFL info board next to the registration vendor, it will update with TFL scores and news weekly!

The Neo-Realms Team Fishing League (TFL) is a competitive, team-based tournament league for Neo-Realms Fishing. Players compete in 2v2 matches over the course of a season, with over $25,000L in prizes going to the top teams and league victors. Grab a partner and register today!


---
TFL Starting Soon!
Neo-Realms | February 5, 2013, 1:00 pm
TFL Season 7 Registration will open up on Monday, February 11th! in Alston. If you would like to sponsor the TFL league, please contact Sweegy Manilow.
---
TFL Badges are available
Neo-Realms | May 20, 2012, 2:10 pm
TFL badges are now available for this season's participants. To use, wear the Achievement had and click 'get badges' for the TFL badge to show up. Thanks for playing this season!
---
Congratulations to Season 6 Winners: The UnderCovers!
Neo-Realms | May 8, 2012, 12:31 pm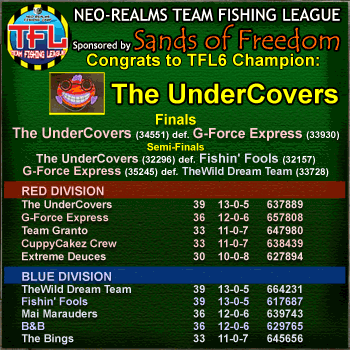 Congratulations to the Season 6 Winners, the UnderCovers! It was an exciting season, thanks to everyone who participated! Prizes for the winners will be distributed shortly. A big thank you to all of our sponsors for the season including our league sponsor Sands of Freedom!
---