If you are interested in sponsoring the TFL please contact Sweegy Manilow!

Blue Division
Team
P
W-D-L
The Fishing Canucks
18
6-0-1
The Worm Wiggler's
15
5-0-2
Double Trouble
12
4-0-3
Halibut Hags
10
3-1-3
Fish Wranglers
9
3-0-4
The Soot Sprites
9
3-0-4
Aquaholics Anonymous
6
2-0-5
Blues For Life
4
1-1-5
Red Division
Team
P
W-D-L
Keepin' it Reel
21
7-0-1
Cannafish
15
5-0-3
LipSmackers
15
5-0-3
Extreme Deuces
15
5-0-3
The Reel Deal
15
5-0-3
Galaxy Fishers
12
4-0-4
Lil' Bass Kickers
9
3-0-5
Bucc Fishers
3
1-0-7
OFF THE DOCK
3
1-0-7



Week 6 Results
Neo-Realms | March 22, 2011, 1:24 pm
In Blue Division THE SUMMONERS, Federation Fishers and Cant(erbury) Fish have a 6 point lead on the pack, with 3 teams below them tied at 21 points.

In Red Division we also have a 3 way tie at the top, with The Claddagh hanging on by tiebreaker points with G-Force Express and Cheese on the Hook close behind. Epic Duo remains only 3 points behind the top of the pack.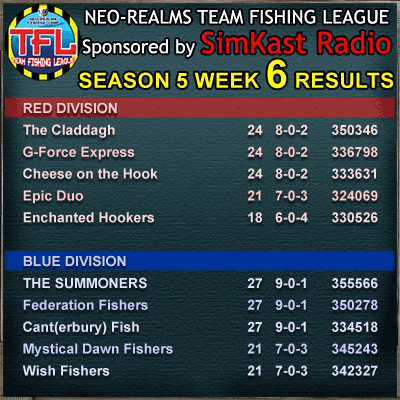 ---
Week 4 Results
Neo-Realms | March 15, 2011, 2:52 pm
Blue Division sees Federation Fishers with the lone lead, still undefeated in 7 matches. THE SUMMONERS and Cant(erbury) Fish lurk close by with 3 points to go.

In Red Division Cheese on the Hook takes the sole lead with their undefeated performance as well, and the Claddagh are alone in second with 3 points to go on the leaders.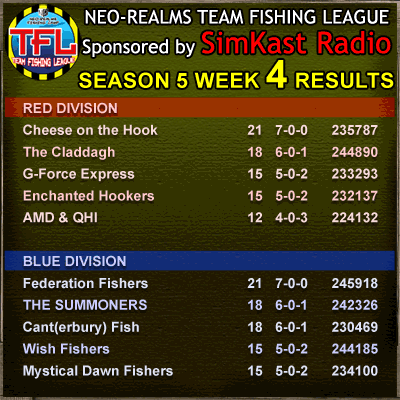 ---
Week 3 Results
Neo-Realms | March 9, 2011, 1:38 pm
In Red Division we still have The Claddagh and Cheese on a Hook as the 2 undefeated teams on top, with Fire Breathing Rubber Duckies and Enchanted Hookers close behind rounding out the top 4.

In Blue Division only Federation Fishers remain unbeaten, with a 3-way tie on points between THE SUMMONERS, Cant(erbury) Fish and The UnderCovers on top.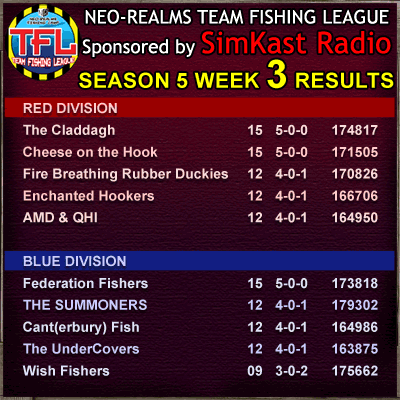 ---
Week 2 Results
Neo-Realms | February 28, 2011, 12:05 pm
In the Blue Division, we have 5 teams all undefeated: Wish Fishers, Federation Fishers, THE SUMMONERS, The UnderCovers and Cookie Crew. In the Red Division, only 3 teams remain undefeated led by Cheese on the Hook, The Claddagh and Enchanted Hookers. Good luck to all teams this coming week!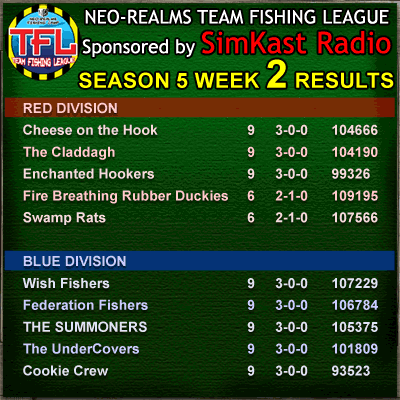 ---
Week 1 Results!
Neo-Realms | February 22, 2011, 2:10 pm
We're off and running with the first week's results in! On top of both divisions are Klassy Kiwi's and THE SUMMONERS with impressive 38k+ point totals each to start off the season!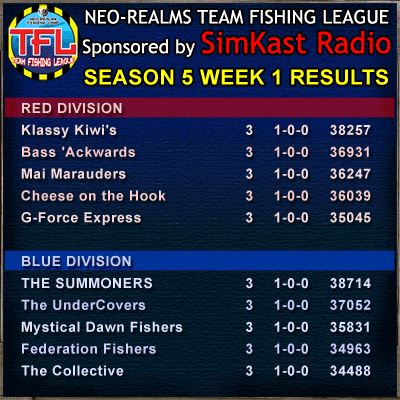 ---
Page 36
News Archive: 1 | 2 | 3 | 4 | 5 | 6 | 7 | 8 | 9 | 10 | 11 | 12 | 13 | 14 | 15 | 16 | 17 | 18 | 19 | 20 | 21 | 22 | 23 | 24 | 25 | 26 | 27 | 28 | 29 | 30 | 31 | 32 | 33 | 34 | 35 | 36 | 37 | 38 | 39 | 40 | 41 | 42 | 43 | 44 | 45 | 46 | 47 | 48 | 49 | 50 | 51 |