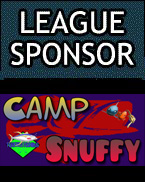 Blue Division
Team
P
W-D-L
Extreme Deuces
24
8-0-2
AceOfSpades
21
7-0-3
Federation Fishers
21
7-0-3
Crystal Lake Crew
21
7-0-3
GALAXY FISHERS
15
5-0-5
Femme Fatale Fishers
12
4-0-6
Pescadoras Calientes
12
4-0-6
Sushi Angels
12
4-0-6
Gone Fishin'
12
4-0-6
What's The Catch?
12
4-0-6
Blue Waffles
3
1-0-9
Red Division
Team
P
W-D-L
Cookie Casters
24
8-0-2
The Cohenites
18
6-0-4
Keeping it Reel
18
6-0-4
Rag Doll Cats
18
6-0-4
The Collective
18
6-0-4
Camp Snuffy
18
6-0-4
Double Trouble
12
4-0-6
Lil' Bass Kickers
12
4-0-6
Summer Bay Bandits
12
4-0-6
Grumpy Old Men
9
3-0-7
DaCastadagz
6
2-0-8



Your levels left number should now be correct
Neo-Realms | June 26, 2008, 12:42 pm
Something went awry that caused some levels left to allocate to now be accurate. I've gone through the db and fixed this so you should have the correct amount of levels left for the season. :)
---
Week 6 Action!
Neo-Realms | June 12, 2008, 8:03 am
A lot of shakeups in the tables this week. Only losing 1 match of the 4, The Winter Rats move from second to first to lead the league and still have a game in hand. They are followed by a 4-way tie of The Pansies!, UnderDogs, The Fishing Bandits and Dragon Hearts. Below them is a 4-way tie of 42 points, with The Guppy Yuppies hanging on to last gold spot on total points, followed by the Brasshunters, Crocodile Style, TZN, The Epic Catchers and The Crazy Fishers.
---
Week 6 Deadline Sunday 6/8/2008
Neo-Realms | June 6, 2008, 9:36 am
Matches 17, 18, 19 and 20 due this week. Good luck!
---
TFL Week 5 Action!
Neo-Realms | June 2, 2008, 1:59 pm
A tough week for the Brasshunters, losing 3 on the bounce, but they still lead the league by total points difference. Just behind them is The Winter Rats, who put in a solid performance by winning all 3 of their games. A four-way tie in points rounds out the gold spots this week, with UnderDogs, Crocodile Style, Dragon Hearts and The Royals only 3 points off the leaders. It's anyone's league so far! On the cusp of the gold spots is a six-way tie consisting of The Guppy Yuppies, The Fishing Bandits, The Pansies!, What's the Catch?, Southern Fried, and Bald Green & Slackin.
---
Week 5 Deadline Sunday 6/1/2008
Neo-Realms | May 30, 2008, 1:36 pm
Matches 14, 15 and 16 due this week. Good luck!
---
Page 44
News Archive: 1 | 2 | 3 | 4 | 5 | 6 | 7 | 8 | 9 | 10 | 11 | 12 | 13 | 14 | 15 | 16 | 17 | 18 | 19 | 20 | 21 | 22 | 23 | 24 | 25 | 26 | 27 | 28 | 29 | 30 | 31 | 32 | 33 | 34 | 35 | 36 | 37 | 38 | 39 | 40 | 41 | 42 | 43 | 44 | 45 | 46 | 47 |