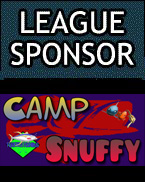 Blue Division
Team
P
W-D-L
Federation Fishers
21
7-0-0
Double Trouble
15
5-0-2
Upstream
15
5-0-2
Crystal Lake Crew
12
4-0-3
The Claddagh
12
4-0-3
The Collective
9
3-0-4
The Summoners
9
3-0-4
LipSmackers
9
3-0-4
The Adventurers
9
3-0-4
Grumpy Old Men
6
2-0-5
Fishy Siblings
6
2-0-5
Reel Screamers
3
1-0-6
Red Division
Team
P
W-D-L
Femme Fatale Fishers
18
6-0-1
Lil' Bass Kickers
15
5-0-2
Fishing With The Blues
13
4-1-2
GALAXY FISHERS
12
4-0-3
Extreme Deuces
12
4-0-3
The Blues Fishers
12
4-0-3
Camp Snuffy's Team
12
4-0-3
The Lushes
12
4-0-3
Anarchy Sharks
12
4-0-3
Mutsen Inc.
3
1-0-6
Plunder Mateys
3
1-0-6
Fairhaven Fishers
1
0-1-6



Week 5 Results!
Neo-Realms | March 19, 2012, 1:13 pm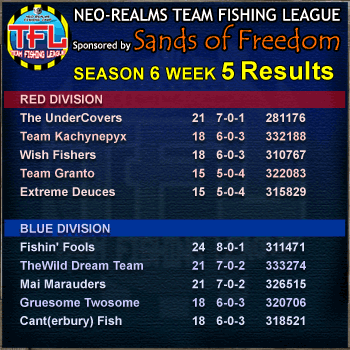 ---
Week 4 Results
Neo-Realms | March 13, 2012, 12:37 pm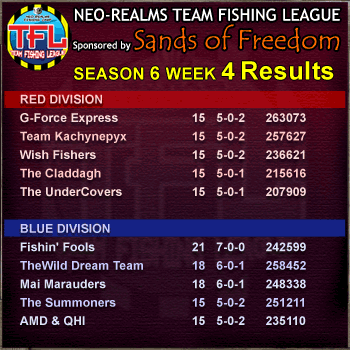 ---
Week 3 Results!
Neo-Realms | March 8, 2012, 11:56 am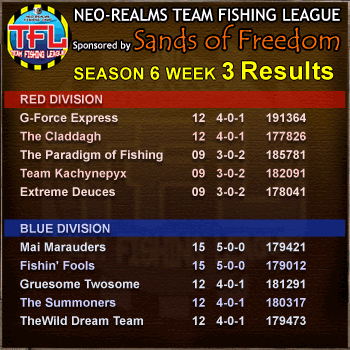 ---
Week 2 Results!
Neo-Realms | February 27, 2012, 2:25 pm
Week two is in the books! In Red Division: Team Kachynepyx and The Claddagh remain undefeated and on top, while in Blue Division Fishin' Fools, Mai Marauders and Gruesome Twosome remain undefeated. Good luck to all teams in the coming week!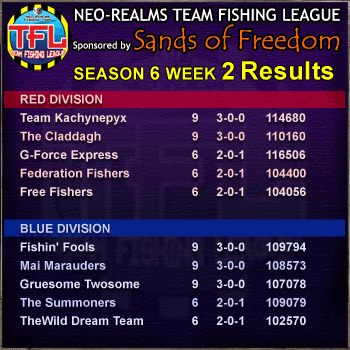 ---
Week 1 Results!
Neo-Realms | February 20, 2012, 1:16 pm
We're off and running with the first week's results in! Big numbers were posted by Lazy Cats and G-Force Express in the Red Division with 40k+ points! Fishin' Fools and The Bings also lead Blue Division. This week has up to 2 matches being contested for the week. Good luck to all teams!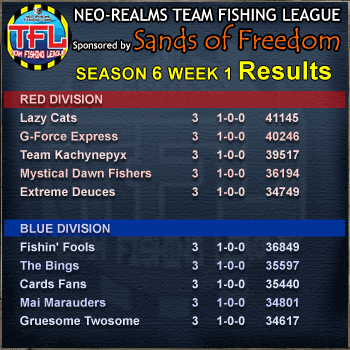 ---
Page 24
News Archive: 1 | 2 | 3 | 4 | 5 | 6 | 7 | 8 | 9 | 10 | 11 | 12 | 13 | 14 | 15 | 16 | 17 | 18 | 19 | 20 | 21 | 22 | 23 | 24 | 25 | 26 | 27 | 28 | 29 | 30 | 31 | 32 | 33 | 34 | 35 | 36 | 37 | 38 | 39 | 40 | 41 | 42 |