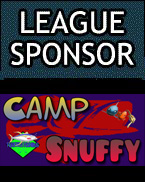 Blue Division
Team
P
W-D-L
Extreme Deuces
24
8-0-2
AceOfSpades
21
7-0-3
Federation Fishers
21
7-0-3
Crystal Lake Crew
21
7-0-3
GALAXY FISHERS
15
5-0-5
Femme Fatale Fishers
12
4-0-6
Pescadoras Calientes
12
4-0-6
Sushi Angels
12
4-0-6
Gone Fishin'
12
4-0-6
What's The Catch?
12
4-0-6
Blue Waffles
3
1-0-9
Red Division
Team
P
W-D-L
Cookie Casters
24
8-0-2
The Cohenites
18
6-0-4
Keeping it Reel
18
6-0-4
Rag Doll Cats
18
6-0-4
The Collective
18
6-0-4
Camp Snuffy
18
6-0-4
Double Trouble
12
4-0-6
Lil' Bass Kickers
12
4-0-6
Summer Bay Bandits
12
4-0-6
Grumpy Old Men
9
3-0-7
DaCastadagz
6
2-0-8



Week Two Results!
Neo-Realms | May 5, 2009, 10:27 am
We've got 5 teams still undefeated after 4 games, and two matches to play this week! Be sure to finish your matches before midnight Sunday!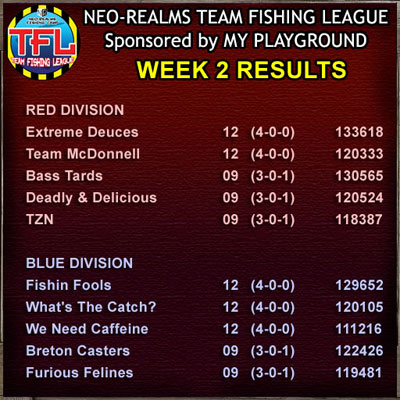 ---
Week One is Over! Week Two due by end of Sunday, May 3rd
Neo-Realms | April 27, 2009, 12:56 pm
Week one is over, well done everyone! This week we have 3 matches to play. Most teams will have matches 2, 3 and 4 to play by this Sunday. If you only have two, that means one of those match numbers was a bye for your team. Good luck to all! :)
---
Week 1 Matches Due by Sunday!
Neo-Realms | April 25, 2009, 1:14 pm
Be sure to complete your Week 1 TFL matches by Sunday! Good luck teams!
---
Rod replacement with result text
Neo-Realms | April 21, 2009, 2:11 pm
If anyone has a rod that is showing weird result text when you cast, just let Sweegy Manilow know and a replacement can be sent that will remove it.
---
Season 3 has begun!
Neo-Realms | April 20, 2009, 1:17 am
TFL Season has officially begun! Good luck everyone! The first match must be completed by April 26th. You will also see your week 2 matches available. This is so you can go ahead and finish them in advance in the case of vacations, etc. The matches will post after the completion date.

If you do not see that you have a match due this week or on a particular week, this is because you have a bye that week. Since there is 27 teams, there will be at least one week where you have one less than everyone else.

You have 162 levels to allocate for the season. That is 6 per match (26), and 6 additional spare points to be used as you see fit.

Note: If your team logo isn't showing up correctly on the website, please send a a copy/mod version of the team texture to Sweegy Manilow and it will be added manually.
---
Page 41
News Archive: 1 | 2 | 3 | 4 | 5 | 6 | 7 | 8 | 9 | 10 | 11 | 12 | 13 | 14 | 15 | 16 | 17 | 18 | 19 | 20 | 21 | 22 | 23 | 24 | 25 | 26 | 27 | 28 | 29 | 30 | 31 | 32 | 33 | 34 | 35 | 36 | 37 | 38 | 39 | 40 | 41 | 42 | 43 | 44 | 45 | 46 | 47 |