TFL Starting Soon!
Neo-Realms | February 5, 2013, 1:00 pm
TFL Season 7 Registration will open up on Monday, February 11th! in Alston. If you would like to sponsor the TFL league, please contact Sweegy Manilow.
---
TFL Badges are available
Neo-Realms | May 20, 2012, 2:10 pm
TFL badges are now available for this season's participants. To use, wear the Achievement had and click 'get badges' for the TFL badge to show up. Thanks for playing this season!
---
Congratulations to Season 6 Winners: The UnderCovers!
Neo-Realms | May 8, 2012, 12:31 pm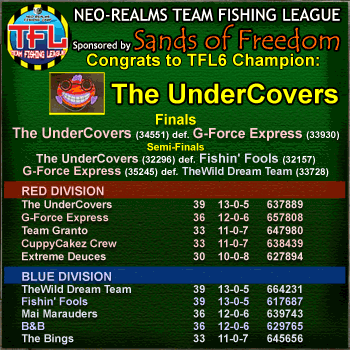 Congratulations to the Season 6 Winners, the UnderCovers! It was an exciting season, thanks to everyone who participated! Prizes for the winners will be distributed shortly. A big thank you to all of our sponsors for the season including our league sponsor Sands of Freedom!
---
Playoff Semi-Final Results
Neo-Realms | May 1, 2012, 1:36 pm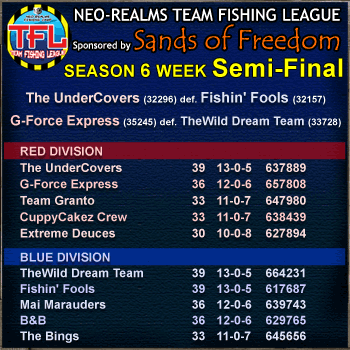 The TFL Season 6 Final will be between The Undercovers and G-Force Express. Good luck to both teams!
---
Week 10 Results
Neo-Realms | April 23, 2012, 1:14 pm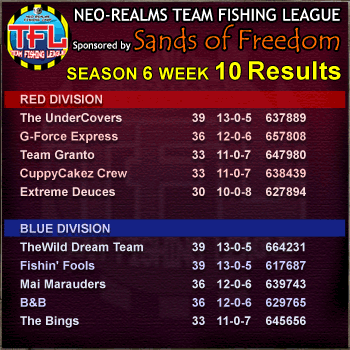 The last week of regular season matches is over! The playoff matches start this week and are due by the end of Sunday. Playoff teams are:

The Undercovers vs Fishin' Fools
Thewild Dream Team vs G-Force Express

Good luck!
---