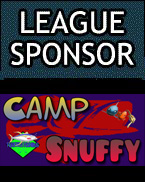 Blue Division
Team
P
W-D-L
Federation Fishers
27
9-0-2
Double Trouble
21
7-0-4
Upstream
21
7-0-4
The Adventurers
18
6-0-5
The Claddagh
18
6-0-5
The Collective
15
5-0-6
Grumpy Old Men
15
5-0-6
Fishy Siblings
15
5-0-6
Crystal Lake Crew
15
5-0-6
LipSmackers
12
4-0-7
The Summoners
12
4-0-7
Reel Screamers
9
3-0-8
Red Division
Team
P
W-D-L
Femme Fatale Fishers
24
8-0-3
The Blues Fishers
24
8-0-3
Camp Snuffy's Team
24
8-0-3
Anarchy Sharks
21
7-0-4
Extreme Deuces
18
6-0-5
GALAXY FISHERS
18
6-0-5
The Lushes
18
6-0-5
Fishing With The Blues
17
5-2-4
Lil' Bass Kickers
15
5-0-6
Mutsen Inc.
12
4-0-7
Plunder Mateys
4
1-1-9
Fairhaven Fishers
1
0-1-10



Weed 3 Results
Neo-Realms | March 25, 2013, 1:37 pm
Week 3 is in the books with only 2 undefeated teams left! The Summoners remaining undefeated in Blue Division, and The UnderCovers undefeated in Red Division.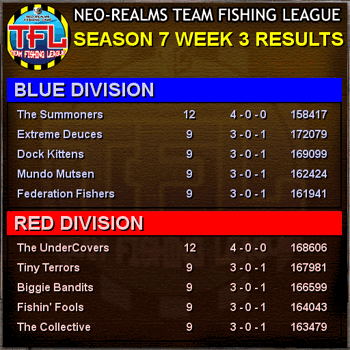 ---
Week 2 Results
Neo-Realms | March 18, 2013, 11:29 am
Week 2 is over and The Dock Kittens, Mundo Mutsen, The Summoners, Biggie Bandits, and The UnderCovers keep their undefeated streaks alive! Good luck to all teams for week 3!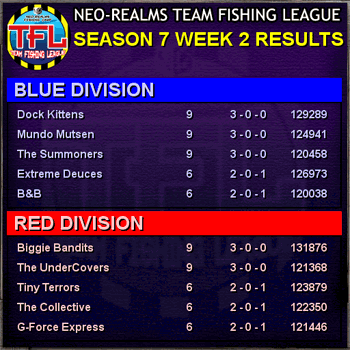 ---
Season 7 Week 1 Results!
Neo-Realms | March 11, 2013, 2:44 pm
We're off and running with the first week's results in, with Fishing Fanatics pulling in the biggest scores this round! Good luck to all teams next week!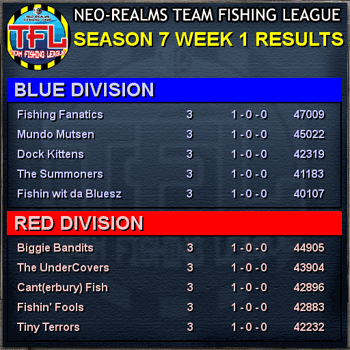 ---
TFL UPDATE
Neo-Realms | March 4, 2013, 1:43 pm
We had 2 late teams added to the schedule, making the teams in each division an equal 14. Each team has received an additional 6 levels to use, making the total for the season 14x6=84 levels. Please check your match schedules to make sure you know when your matches are, as there are no more bye weeks. If you have any questions, please contact Sweegy Manilow.
---
Season 7 has begun!
Neo-Realms | March 3, 2013, 11:57 pm
Each player has received 78 levels for the season to spend as they see fit. If you don't see a match for your team immediately, your team may have a bye week. The first matches must be completed by the end of Sunday, March 10th. The results of those matches will be posted Monday. Good luck to all teams this season!
---
Page 22
News Archive: 1 | 2 | 3 | 4 | 5 | 6 | 7 | 8 | 9 | 10 | 11 | 12 | 13 | 14 | 15 | 16 | 17 | 18 | 19 | 20 | 21 | 22 | 23 | 24 | 25 | 26 | 27 | 28 | 29 | 30 | 31 | 32 | 33 | 34 | 35 | 36 | 37 | 38 | 39 | 40 | 41 | 42 | 43 | 44 |