Week 4 Results
Neo-Realms | March 15, 2011, 2:52 pm
Blue Division sees Federation Fishers with the lone lead, still undefeated in 7 matches. THE SUMMONERS and Cant(erbury) Fish lurk close by with 3 points to go.

In Red Division Cheese on the Hook takes the sole lead with their undefeated performance as well, and the Claddagh are alone in second with 3 points to go on the leaders.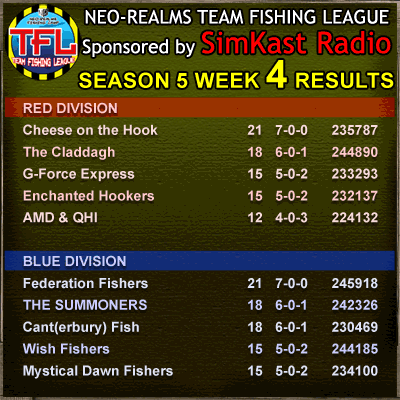 ---
Week 3 Results
Neo-Realms | March 9, 2011, 1:38 pm
In Red Division we still have The Claddagh and Cheese on a Hook as the 2 undefeated teams on top, with Fire Breathing Rubber Duckies and Enchanted Hookers close behind rounding out the top 4.

In Blue Division only Federation Fishers remain unbeaten, with a 3-way tie on points between THE SUMMONERS, Cant(erbury) Fish and The UnderCovers on top.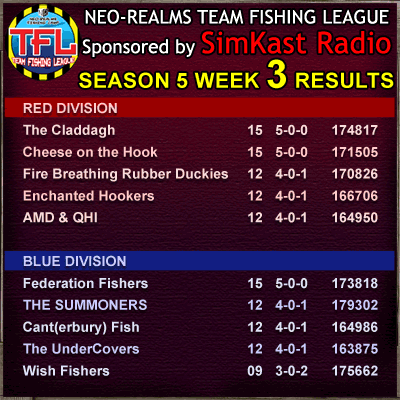 ---
Week 2 Results
Neo-Realms | February 28, 2011, 12:05 pm
In the Blue Division, we have 5 teams all undefeated: Wish Fishers, Federation Fishers, THE SUMMONERS, The UnderCovers and Cookie Crew. In the Red Division, only 3 teams remain undefeated led by Cheese on the Hook, The Claddagh and Enchanted Hookers. Good luck to all teams this coming week!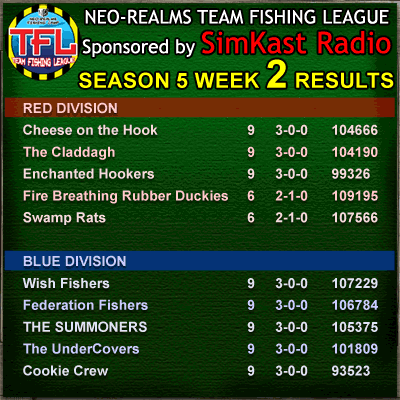 ---
Week 1 Results!
Neo-Realms | February 22, 2011, 2:10 pm
We're off and running with the first week's results in! On top of both divisions are Klassy Kiwi's and THE SUMMONERS with impressive 38k+ point totals each to start off the season!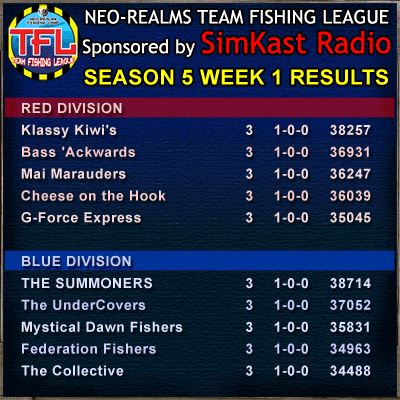 ---
Practice Mode matches will always be scheduled after real matches
Neo-Realms | February 15, 2011, 9:08 am
Please take care when you schedule a practice match: real matches will always be scheduled ahead of them on your Match Control Box. When you have no more real matches available, your practice matches will then be able to be fished.
---