Fishing Back Online
Neo-Realms | April 1, 2013, 1:09 am
New Fishing Server is online! If you experience any fishing problems, please contact Sweegy Manilow. Thanks for your patience!
---
Fishing down for maintenance 12:30am
Neo-Realms | March 31, 2013, 7:52 pm
Fishing will be going down for maintenance at 12:30AM for a few minutes while we transition to a new server. Please avoid any selftourneys or TFL matches at this time. Thanks!
---
Weed 3 Results
Neo-Realms | March 25, 2013, 1:37 pm
Week 3 is in the books with only 2 undefeated teams left! The Summoners remaining undefeated in Blue Division, and The UnderCovers undefeated in Red Division.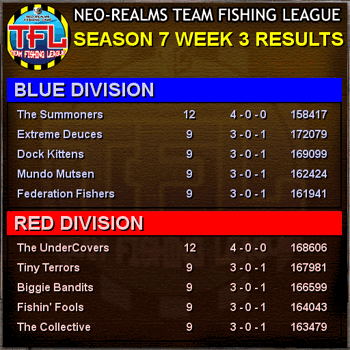 ---
Week 2 Results
Neo-Realms | March 18, 2013, 11:29 am
Week 2 is over and The Dock Kittens, Mundo Mutsen, The Summoners, Biggie Bandits, and The UnderCovers keep their undefeated streaks alive! Good luck to all teams for week 3!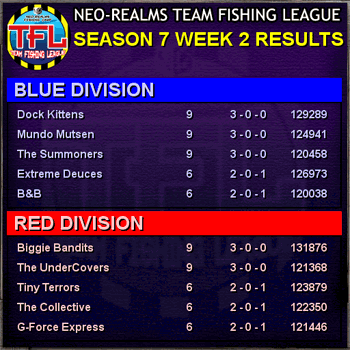 ---
Season 7 Week 1 Results!
Neo-Realms | March 11, 2013, 2:44 pm
We're off and running with the first week's results in, with Fishing Fanatics pulling in the biggest scores this round! Good luck to all teams next week!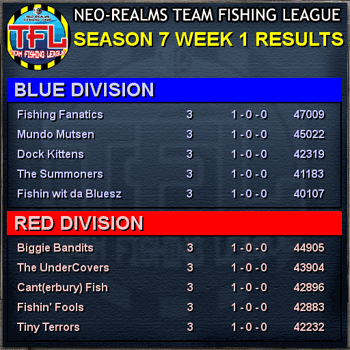 ---