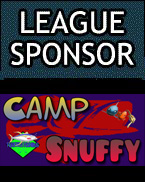 Blue Division
Team
P
W-D-L
Extreme Deuces
24
8-0-2
AceOfSpades
21
7-0-3
Federation Fishers
21
7-0-3
Crystal Lake Crew
21
7-0-3
GALAXY FISHERS
15
5-0-5
Femme Fatale Fishers
12
4-0-6
Pescadoras Calientes
12
4-0-6
Sushi Angels
12
4-0-6
Gone Fishin'
12
4-0-6
What's The Catch?
12
4-0-6
Blue Waffles
3
1-0-9
Red Division
Team
P
W-D-L
Cookie Casters
24
8-0-2
The Cohenites
18
6-0-4
Keeping it Reel
18
6-0-4
Rag Doll Cats
18
6-0-4
The Collective
18
6-0-4
Camp Snuffy
18
6-0-4
Double Trouble
12
4-0-6
Lil' Bass Kickers
12
4-0-6
Summer Bay Bandits
12
4-0-6
Grumpy Old Men
9
3-0-7
DaCastadagz
6
2-0-8



CONGRATS TO TFL SEASON 4 WINNERS THE UNDERCOVERS!
Neo-Realms | June 28, 2010, 11:49 am
A big congratulations to The UnderCovers, the TFL Season 4 Champions for this year!

It was a hard-fought campaign and made for an exciting season! A special thanks to all of our sponsors, and to all who participated. See you again next season!

Winnings teams: your prizes will be distributed within the next couple of days.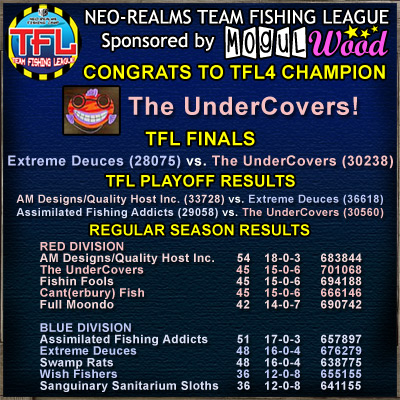 ---
Finals this Week!
Neo-Realms | June 21, 2010, 10:26 am
Congrats to Extreme Deuces and The UnderCovers who advance to the finals this week!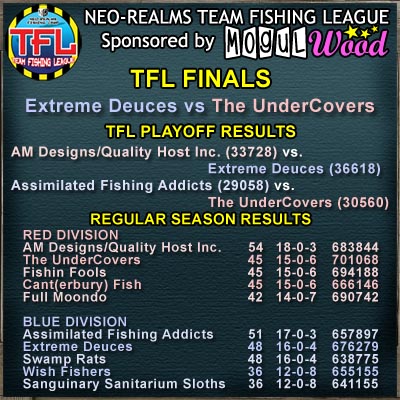 ---
Week 11 Results and Beginning of Playoffs!
Neo-Realms | June 15, 2010, 12:00 pm
The regular season is over!

In Blue Division: Assimilated Fishing Addicts easily reach the playoffs, while Extreme Deuces barely edge over Swamp Rats just on total points.

In Red Divison: AM Designs/Quality Host Inc. cruise into the playoffs while The UnderCovers secure a playoff space just barely above Fishin Fools and Cant(erbury) Fish. The tie was broken by only 6880 total points!

For the 4 teams involved in playoffs, matches will be available soon and must be finished by Monday, June 21st. Then the final remaining teams will have the final to be played by Monday, June 28th.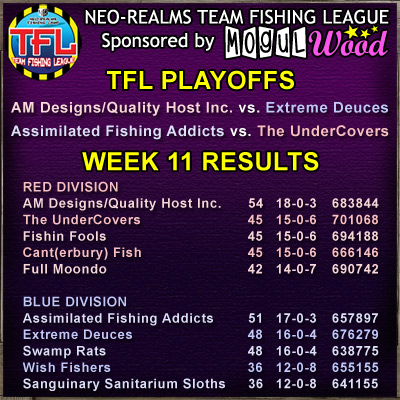 ---
Week 10 Results
Neo-Realms | June 2, 2010, 12:56 pm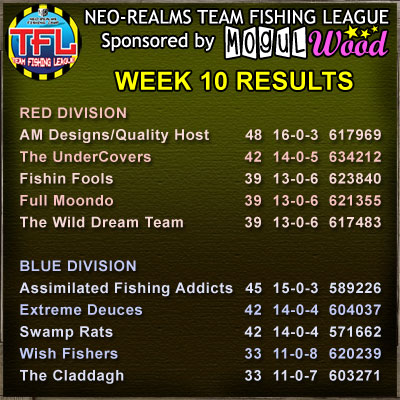 ---
Week 9 Results
Neo-Realms | May 28, 2010, 8:55 am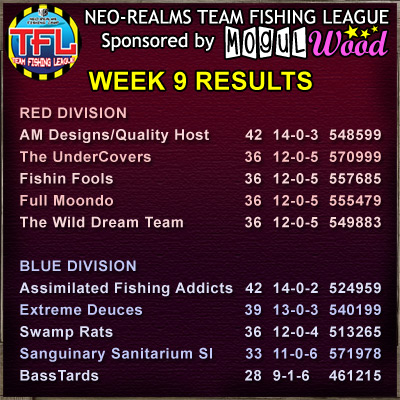 ---
Page 34
News Archive: 1 | 2 | 3 | 4 | 5 | 6 | 7 | 8 | 9 | 10 | 11 | 12 | 13 | 14 | 15 | 16 | 17 | 18 | 19 | 20 | 21 | 22 | 23 | 24 | 25 | 26 | 27 | 28 | 29 | 30 | 31 | 32 | 33 | 34 | 35 | 36 | 37 | 38 | 39 | 40 | 41 | 42 | 43 | 44 | 45 | 46 | 47 |