Season 10 Week 2 Results
Neo-Realms | March 15, 2016, 12:34 am
Week 2 is done and Federated Fishers have maintained their undefeated streak in Blue Division. In Red Division: Windlight Warriors, THE SUMMONERS and The Claddagh maintain their undefeated positions as well. Good luck to all teams for Week 3!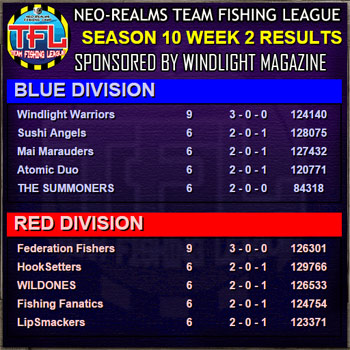 ---
Season 10 Week 1 Results
Neo-Realms | March 7, 2016, 6:44 pm
Season 10 is underway and we have the first week's results in! Good luck to all teams next week!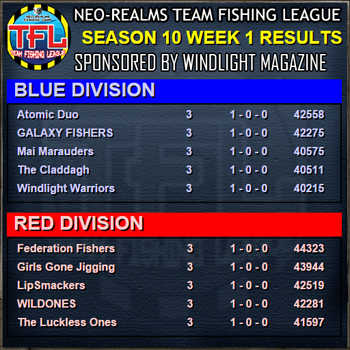 ---
TFL is Underway!
Neo-Realms | February 29, 2016, 1:06 am
TFL schedules has been posted! The first match will be posted by next Sunday, and a double header for Week 2 is also available for fishing. If you do not see all 3 matches, you may have a bye for that week.
---
TFL Registration ends tonight!
Neo-Realms | February 28, 2016, 3:25 pm
If you wish to participate in the Team Fishing League this season, be sure to register and complete your team registration by tonight! Week 1 TFL matches will be available Monday, to be completed BEFORE Monday, March 7th.
---
TFL Season 10 Registration is Underway!
Neo-Realms | February 6, 2016, 10:41 am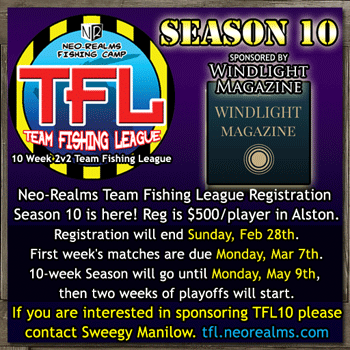 It's that time again! The Neo-Realms Team Fishing League (TFL) is a competitive, team-based tournament league for Neo-Realms Fishing. Players compete in 2v2 matches over the course of a season, with prizes going to the league victors. Registrations are open in Alston and close on Sunday, Feb 28th! If you are interested in sponsorship, please contact Sweegy Manilow. Special thanks to Windlight Magazine for sponsoring the league this year!
---