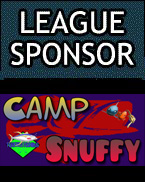 Blue Division
Team
P
W-D-L
Federation Fishers
21
7-0-0
Double Trouble
15
5-0-2
Upstream
15
5-0-2
Crystal Lake Crew
12
4-0-3
The Claddagh
12
4-0-3
The Collective
9
3-0-4
The Summoners
9
3-0-4
LipSmackers
9
3-0-4
The Adventurers
9
3-0-4
Grumpy Old Men
6
2-0-5
Fishy Siblings
6
2-0-5
Reel Screamers
3
1-0-6
Red Division
Team
P
W-D-L
Femme Fatale Fishers
18
6-0-1
Lil' Bass Kickers
15
5-0-2
Fishing With The Blues
13
4-1-2
GALAXY FISHERS
12
4-0-3
Extreme Deuces
12
4-0-3
The Blues Fishers
12
4-0-3
Camp Snuffy's Team
12
4-0-3
The Lushes
12
4-0-3
Anarchy Sharks
12
4-0-3
Mutsen Inc.
3
1-0-6
Plunder Mateys
3
1-0-6
Fairhaven Fishers
1
0-1-6



TFL is Underway!
Neo-Realms | February 29, 2016, 1:06 am
TFL schedules has been posted! The first match will be posted by next Sunday, and a double header for Week 2 is also available for fishing. If you do not see all 3 matches, you may have a bye for that week.
---
TFL Registration ends tonight!
Neo-Realms | February 28, 2016, 3:25 pm
If you wish to participate in the Team Fishing League this season, be sure to register and complete your team registration by tonight! Week 1 TFL matches will be available Monday, to be completed BEFORE Monday, March 7th.
---
TFL Season 10 Registration is Underway!
Neo-Realms | February 6, 2016, 10:41 am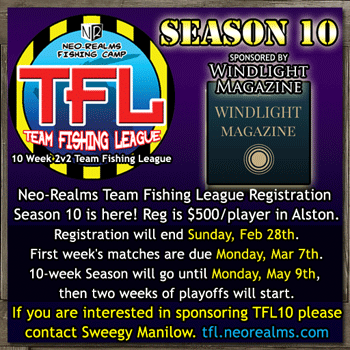 It's that time again! The Neo-Realms Team Fishing League (TFL) is a competitive, team-based tournament league for Neo-Realms Fishing. Players compete in 2v2 matches over the course of a season, with prizes going to the league victors. Registrations are open in Alston and close on Sunday, Feb 28th! If you are interested in sponsorship, please contact Sweegy Manilow. Special thanks to Windlight Magazine for sponsoring the league this year!
---
Season 9 is Complete! Congrats to Salubrius Vampyres!
Neo-Realms | June 8, 2015, 5:32 pm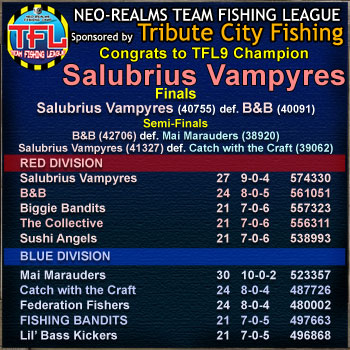 Season 9 is now over! Congrats to Salubrius Vampyres who won a close final over B&B!
Here is the prize distribution for this season:
Salubrius Vampyres
TFL Champions, Division Champs
Sal Salubrius
Rob68 Robbiani


$12,910L

B&B
TFL Runner-Up, 2nd Place Divison
ThBeast Resident
TheiaBurst Resident


$8,020L

Mai Marauders
Round One TFL Playoffs, Division Champs
Callum Finesmith
Leissa Schwade

$7,110L

Catch with the Craft
Round One TFL Playoffs, 2nd Place Division
Maankind Benelli
Ranae Quinn

$4,840L

Federation Fishers
3rd Place Division
Steffi Lavender
Anastasia Mathilde


$2,000L

Biggie Bandits
3rd Place Division
Avatard Aie
brittza Resident

$2,000L

FISHING BANDITS
4th Place Division
Jina Pennyfeather
Itsfrancoisuba Resident

$1,310L

The Collective
4th Place Division
Borg Capalini
TabithaWest Resident

$1,310L

And the winner of our Season 9 Participation Drawing is Sushi Angels! Congrats!
And special thanks to our league sponsor this season, Tribute City Fishing! Thanks to all players who participated, we hope everyone had fun and we will see you next season!
---
Season 9 Playoff Round 1 Results
Neo-Realms | June 1, 2015, 6:15 pm
The first round of a playoffs is over! B&B have defeated Mai Marauders, and Salubrius Vampyres have reached the final by defeating Catch with the Craft.

Our Season 9 TFL Finals are:

Salubrius Vampyres vs. B&B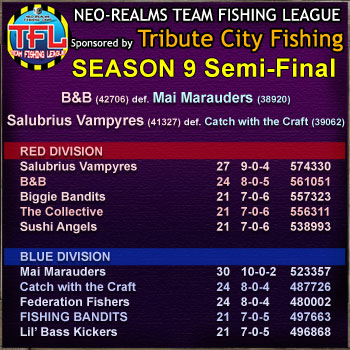 ---
Page 11
News Archive: 1 | 2 | 3 | 4 | 5 | 6 | 7 | 8 | 9 | 10 | 11 | 12 | 13 | 14 | 15 | 16 | 17 | 18 | 19 | 20 | 21 | 22 | 23 | 24 | 25 | 26 | 27 | 28 | 29 | 30 | 31 | 32 | 33 | 34 | 35 | 36 | 37 | 38 | 39 | 40 | 41 | 42 |