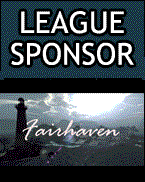 Blue Division
Team
P
W-D-L
Grumpy Old Men
18
6-0-3
THE SUMMONERS
18
6-0-3
Sushi Angels
18
6-0-3
Jus A Bugs' Life
15
5-0-4
Lil' Bass Kickers
15
5-0-4
The Collective
15
5-0-4
Bacon Bandits
12
4-0-5
The Claddagh
12
4-0-5
Femme Fatale Fishers
6
2-0-7
The Blues Fishers
6
2-0-7
Red Division
Team
P
W-D-L
Fish Hookers
18
6-0-4
The Adventurers
18
6-0-4
Double Trouble
18
6-0-4
Feeling Nauti
18
6-0-4
Fish Nuts
18
6-0-4
Extreme Deuces
18
6-0-4
The Golden Rods
15
5-0-5
Rainbow Trouts
15
5-0-5
LipSmackers
15
5-0-5
Crystal Lake Crew
12
4-0-6
The Pobieski Factor
0
0-0-10



TFL Season 8 Registration is now open!
Neo-Realms | February 24, 2014, 7:15 pm
TFL Registration is now open in Tribute City and Alston! Registration is $500 per person and will end Sunday, March 16th. Feel free to take a copy of the TFL info board next to the registration vendor, it will update with TFL scores and news weekly!

The Neo-Realms Team Fishing League (TFL) is a competitive, team-based tournament league for Neo-Realms Fishing. Players compete in 2v2 matches over the course of a season, with over $12,500L + all registration fees in prizes going to the top teams and league victors. Grab a partner and register today!
---
Team Fishing League Season 8 reg opens Tuesday, February 25!
Neo-Realms | February 18, 2014, 5:17 pm
Season 8 of the Neo-Realms Team Fishing League (sponsored by Tribute City Fishing) will be open for registration Tuesday, February 25th! Registration will be available in Alston as well as our League Sponsor Tribute City Fishing's sim in Zen Events. Registration will end Sunday, March 16th. More info about TFL in the About Section or contact Sweegy Manilow with questions or sponsorship inquiries. Good luck to everyone this season!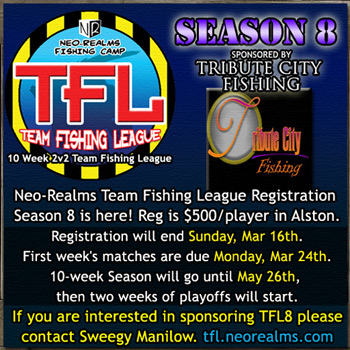 ---
TFL Registration begins next week!
Neo-Realms | February 17, 2014, 7:29 pm
TFL Season 8 Registration will open up next week in Alston! If you would like to be a sponsor for the TFL league, please contact Sweegy Manilow.
---
Congrats to TFL Champions: Mundo Mutsen!
Neo-Realms | May 27, 2013, 1:57 pm
Congratulations to Mundo Mutsen, Season 7 TFL Champions!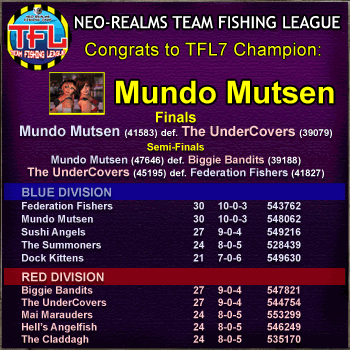 The prize breakdown for this season was:


Mundo Mutsen
TFL Champions, 2nd Place Division
Jet Goode
LadyBug Bashly


$10,910L

The UnderCovers
TFL Runner-Up, 2nd Place Divison
Covergirl Landar
Coverguy Parx


$8,230L

Federation Fishers
Round One TFL Playoffs, 1st Place Division
Steffi Lavender
Anastasia Mathilde

$7,290L

Biggie Bandits
Round One TFL Playoffs, 1st Place Division
Avatard Aie
brittza Resident

$7,290L

Sushi Angels
3rd Place Division
Gun Tigerfish
Sandy Fugue


$2,050L

Mai Marauders
3rd Place Division
Callum Finesmith
Leissa Schwade

$2,050L

Hell's Angelfish
4th Place Division
Devon Wilder
poison Scribe

$1,340L

The Summoners
4th Place Division
Carol1313 Greenwood
Marilynnn Munster


$1,340L


It was a great season, thanks to everyone who participated!
---
Semi-Final Playoffs Complete!
Neo-Realms | May 20, 2013, 2:00 pm
The first round of the playoffs are complete! Both second seed teams have advanced to the finals! The teams in the finals will be:

Mundo Mutsen vs. The UnderCovers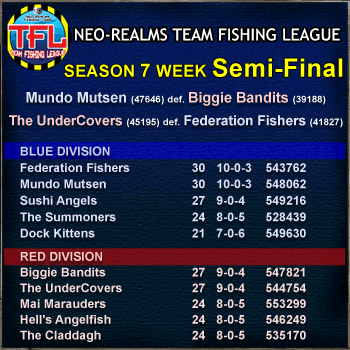 ---
Page 16
News Archive: 1 | 2 | 3 | 4 | 5 | 6 | 7 | 8 | 9 | 10 | 11 | 12 | 13 | 14 | 15 | 16 | 17 | 18 | 19 | 20 | 21 | 22 | 23 | 24 | 25 | 26 | 27 | 28 | 29 | 30 | 31 | 32 | 33 | 34 | 35 | 36 | 37 | 38 | 39 | 40 |