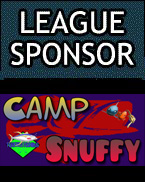 Blue Division
Team
P
W-D-L
Federation Fishers
27
9-0-2
Double Trouble
21
7-0-4
Upstream
21
7-0-4
The Adventurers
18
6-0-5
The Claddagh
18
6-0-5
The Collective
15
5-0-6
Grumpy Old Men
15
5-0-6
Fishy Siblings
15
5-0-6
Crystal Lake Crew
15
5-0-6
LipSmackers
12
4-0-7
The Summoners
12
4-0-7
Reel Screamers
9
3-0-8
Red Division
Team
P
W-D-L
Femme Fatale Fishers
24
8-0-3
The Blues Fishers
24
8-0-3
Camp Snuffy's Team
24
8-0-3
Anarchy Sharks
21
7-0-4
Extreme Deuces
18
6-0-5
GALAXY FISHERS
18
6-0-5
The Lushes
18
6-0-5
Fishing With The Blues
17
5-2-4
Lil' Bass Kickers
15
5-0-6
Mutsen Inc.
12
4-0-7
Plunder Mateys
4
1-1-9
Fairhaven Fishers
1
0-1-10



Team Fishing League Season 9 reg opens Tuesday, February 24!
Neo-Realms | February 21, 2015, 11:44 am
It's time for another season of Team Fishing League! Registration will open next Tuesday! If you are interested in sponsoring the league, please contact Sweegy Manilow.
---
TFL Season 8 Complete! Congrats to Mundo Mutsen!
Neo-Realms | June 9, 2014, 2:06 am
Congrats to TFL Season 8 Winners, Mundo Mutsen!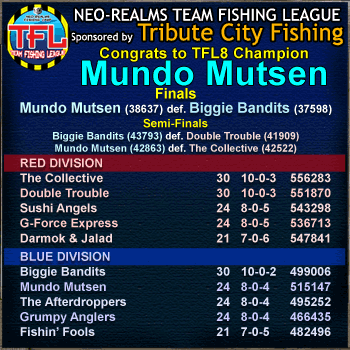 Here is the prize breakdown for this season:


Mundo Mutsen
TFL Champions, 2nd Place Division
Jet Goode
LadyBug Bashly


$10,640L

Biggie Bandits
TFL Runner-Up, 1st Place Divison
Avatard Aie
brittza Resident


$10,290L

The Collective
Round One TFL Playoffs, 1st Place Division
Borg Capalini
Easnadh Swansong

$7,110L

Double Trouble
Round One TFL Playoffs, 2nd Place Division
Dylan Mackenzie
Lacey Latrell

$4,840L

Sushi Angels
3rd Place Division
Gun Tigerfish
Sandy Fugue


$2,000L

The Afterdroppers
3rd Place Division
Rich Aftermath
Heaven Lemondrop

$2,000L

Grumpy Anglers
4th Place Division
Walther Kondrad
TabithaWest Resident

$1,310L

G-Force Express
4th Place Division
Granto McCarey
Giulietta Sugarplum


$1,310L


Special thanks to our league sponsor this season, Tribute City Fishing! Thanks to all players who participated, we hope everyone had fun and we will see you next season!
---
Season 8 Semi-Finals Results!
Neo-Realms | June 2, 2014, 1:35 am
It looks like it will be an all Blue Division Final as the Biggie Bandits defeat Double Trouble, and Mundo Mutsen barely scrape by The Collective by only 341 points! The finals are a rematch of Season 7's semi-final, so it will be a good match! Good luck to both teams!

Season 8 TFL Finals:

Biggie Bandits vs. Mundo Mutsen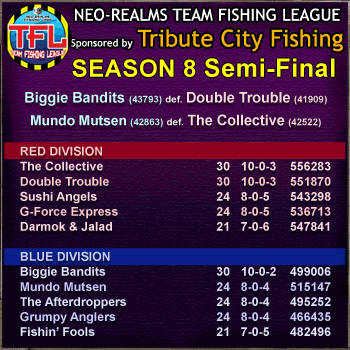 ---
Season 8 Week 10 Results, Playoffs Begin!
Neo-Realms | May 26, 2014, 1:12 am
Week 10 is over, ending the regular season! Congrats to The Collective, Double Trouble, Sushi Angels and G-Force Express in the Red Division, and Biggie Bandits, Mundo Mutsen, The Afterdroppers and Grumpy Anglers in Blue Division for finishing in the top 4 prize spots!

The playoffs between the Division Champs and the opposite Division Runner-ups begin this week! The matches are:

Biggie Bandits vs. Double Trouble
The Collective vs. Mundo Mutsen

Thanks to everyone who participated in this season's TFL, and good luck to the teams in the playoffs!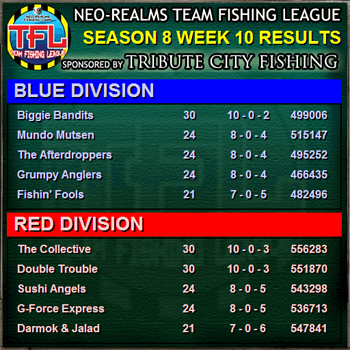 ---
Season 8 Week 9 Results
Neo-Realms | May 19, 2014, 2:01 am
Week 9 is over and only one more week of matches before the playoffs! In Red Division, The Collective and Double Trouble have wrapped up the playoff positions, but the race for first seed is still open. In Blue Division, Biggie Bandits have secured the first playoff spot, with the second spot up in the air between any of 7 teams!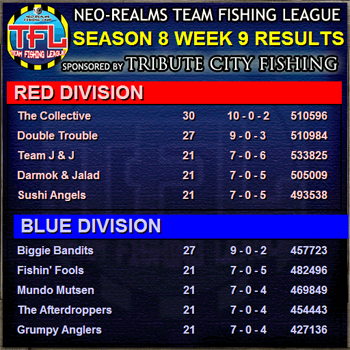 ---
Page 16
News Archive: 1 | 2 | 3 | 4 | 5 | 6 | 7 | 8 | 9 | 10 | 11 | 12 | 13 | 14 | 15 | 16 | 17 | 18 | 19 | 20 | 21 | 22 | 23 | 24 | 25 | 26 | 27 | 28 | 29 | 30 | 31 | 32 | 33 | 34 | 35 | 36 | 37 | 38 | 39 | 40 | 41 | 42 | 43 | 44 |