If you are interested in sponsoring the TFL please contact Sweegy Manilow!

Blue Division
Team
P
W-D-L
The Fishing Canucks
18
6-0-1
The Worm Wiggler's
15
5-0-2
Double Trouble
12
4-0-3
Halibut Hags
10
3-1-3
Fish Wranglers
9
3-0-4
The Soot Sprites
9
3-0-4
Aquaholics Anonymous
6
2-0-5
Blues For Life
4
1-1-5
Red Division
Team
P
W-D-L
Keepin' it Reel
21
7-0-1
Cannafish
15
5-0-3
LipSmackers
15
5-0-3
Extreme Deuces
15
5-0-3
The Reel Deal
15
5-0-3
Galaxy Fishers
12
4-0-4
Lil' Bass Kickers
9
3-0-5
Bucc Fishers
3
1-0-7
OFF THE DOCK
3
1-0-7



Badges Ready!
Neo-Realms | June 13, 2016, 4:01 am
Hello TFL participants, your badges for competing in the TFL are ready and available on your Achievement Hats.
---
Participation Drawing Winner: Atomic Duo
Neo-Realms | May 24, 2016, 6:38 pm
Congrats to Atomic Duo, winners of this years participation drawing!

Thanks everyone for a great Season 10 and we'll see you next time!
---
Season 10 is Complete! Congrats to Windlight Warriors!
Neo-Realms | May 23, 2016, 5:22 pm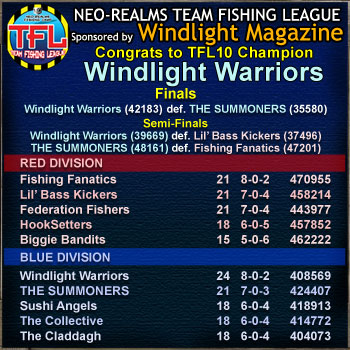 Season 10 is in the books and congratulations to the champions, Windlight Warriors!
Here is the prize distribution for this season:
Windlight Warriors
TFL Champions, Division Champs
johannes1977
Resident Jaki Sismondi
$11,590L
THE SUMMONERS
TFL Runner-Up, 2nd Place Division
Carol1313 Greenwood
Marilynnn Munster
$7,180L
Fishing Fanatics
TFL Semi-Finalist, Division Champs
Prim Panache
SusieBloom Resident
$6,390L
Lil' Bass Kickers
TFL Semi-Finalist, 2nd Place Division
Kezz Rexen
Ryoyuki Yatsenko
$4,360L
Sushi Angels
3rd Place Division
Gun Tigerfish
Galadriel Taurog
$1,800L
Federation Fishers
3rd Place Division
Steffi Lavender
Anastasia Mathilde
$1,800L
The Collective
4th Place Division
Borg Capalini
Alecia Hallison
$1,190L
HookSetters
4th Place Division
RafeKirikas Resident
Jina Pennyfeather
$1,190L
Prizes will be distributed to the winners tomorrow, as well as the Participation Drawing. Thanks to all who took part in TFL 10 this season!
---
Season 10 Semi-Final Results
Neo-Realms | May 16, 2016, 3:04 am
The TFL Season 10 Semi-Finals are complete and the results are in! Windlight Warriors have defeated the Lil' Bass Kickers in the first match, and THE SUMMONERS defeated Fishing Fanatics for the final slot in the playoffs! These two teams met in Match #6 and it was extremely close, so it should be an exciting match!

The TFL Season 10 Final Match:
Windlight Warriors vs. THE SUMMONERS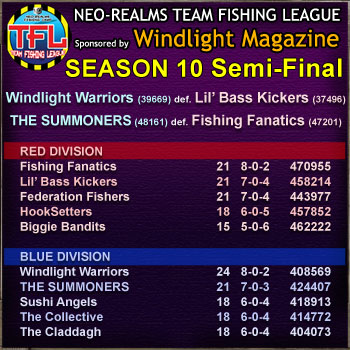 ---
Season 10 Week 10 Results
Neo-Realms | May 9, 2016, 6:11 pm
That's a wrap on Season 10 Regular Season! In Blue Division Windlight Warriors and The Summoners will be moving ahead to the Playoffs, with Sushi Angels and The Collective placing in the money positions. In Red Division it was extremely close but Fishing Fanatics and Lil' Bass Kickers will be going to the Playoffs, with Federation Fishers and HookSetters ending in money spots.

The first round of the playoffs are:

Windlight Warriors vs. Lil' Bass Kickers

Fishing Fanatics vs. THE SUMMONERS

Good luck!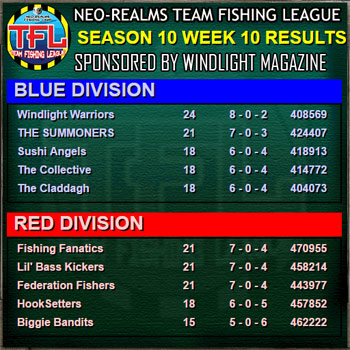 ---
Page 17
News Archive: 1 | 2 | 3 | 4 | 5 | 6 | 7 | 8 | 9 | 10 | 11 | 12 | 13 | 14 | 15 | 16 | 17 | 18 | 19 | 20 | 21 | 22 | 23 | 24 | 25 | 26 | 27 | 28 | 29 | 30 | 31 | 32 | 33 | 34 | 35 | 36 | 37 | 38 | 39 | 40 | 41 | 42 | 43 | 44 | 45 | 46 | 47 | 48 | 49 | 50 | 51 |