If you are interested in sponsoring the TFL please contact Sweegy Manilow!

Blue Division
Team
P
W-D-L
The Fishing Canucks
18
6-0-1
The Worm Wiggler's
15
5-0-2
Double Trouble
12
4-0-3
Halibut Hags
10
3-1-3
Fish Wranglers
9
3-0-4
The Soot Sprites
9
3-0-4
Aquaholics Anonymous
6
2-0-5
Blues For Life
4
1-1-5
Red Division
Team
P
W-D-L
Keepin' it Reel
21
7-0-1
Cannafish
15
5-0-3
LipSmackers
15
5-0-3
Extreme Deuces
15
5-0-3
The Reel Deal
15
5-0-3
Galaxy Fishers
12
4-0-4
Lil' Bass Kickers
9
3-0-5
Bucc Fishers
3
1-0-7
OFF THE DOCK
3
1-0-7



Congrats to TFL Champions: Mundo Mutsen!
Neo-Realms | May 27, 2013, 1:57 pm
Congratulations to Mundo Mutsen, Season 7 TFL Champions!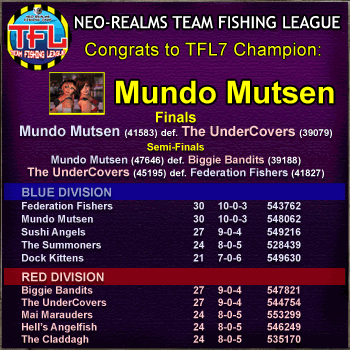 The prize breakdown for this season was:


Mundo Mutsen
TFL Champions, 2nd Place Division
Jet Goode
LadyBug Bashly


$10,910L

The UnderCovers
TFL Runner-Up, 2nd Place Divison
Covergirl Landar
Coverguy Parx


$8,230L

Federation Fishers
Round One TFL Playoffs, 1st Place Division
Steffi Lavender
Anastasia Mathilde

$7,290L

Biggie Bandits
Round One TFL Playoffs, 1st Place Division
Avatard Aie
brittza Resident

$7,290L

Sushi Angels
3rd Place Division
Gun Tigerfish
Sandy Fugue


$2,050L

Mai Marauders
3rd Place Division
Callum Finesmith
Leissa Schwade

$2,050L

Hell's Angelfish
4th Place Division
Devon Wilder
poison Scribe

$1,340L

The Summoners
4th Place Division
Carol1313 Greenwood
Marilynnn Munster


$1,340L


It was a great season, thanks to everyone who participated!
---
Semi-Final Playoffs Complete!
Neo-Realms | May 20, 2013, 2:00 pm
The first round of the playoffs are complete! Both second seed teams have advanced to the finals! The teams in the finals will be:

Mundo Mutsen vs. The UnderCovers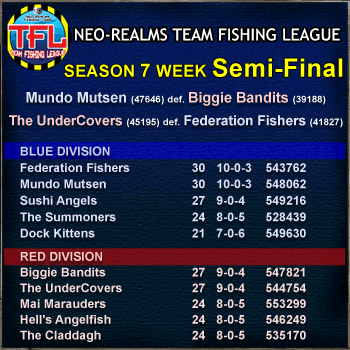 ---
Week 10 Results, playoffs begin!
Neo-Realms | May 14, 2013, 11:25 am
The regular season is over! Congrats to Biggie Bandits, The UnderCovers, Mai Marauders, and Hell's Angelfish in the Red Division; and Federation Fishers, Mundo Mutsen, Sushi Angels, and The Summoners in Blue Division who made it into the top 4 prize money slots!

The playoffs between the Division Champs and the opposite Division Runner-ups begin this week! The matches are:

Federation Fishers vs. The UnderCovers
Biggie Bandits vs. Mundo Mutsen

Thanks to everyone who participated in this season's TFL, and good luck to the teams in the playoffs!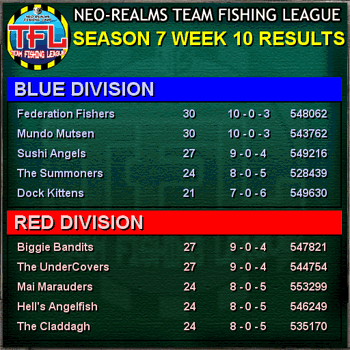 ---
Week 9 Results
Neo-Realms | May 6, 2013, 12:18 pm
Only one more week to go before the playoffs! Good luck everyone!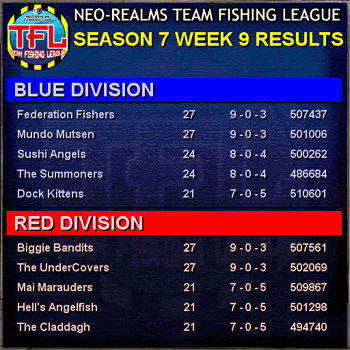 ---
TFL Week 8 Results
Neo-Realms | April 30, 2013, 1:30 pm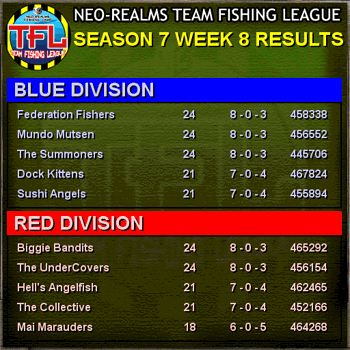 ---
Page 27
News Archive: 1 | 2 | 3 | 4 | 5 | 6 | 7 | 8 | 9 | 10 | 11 | 12 | 13 | 14 | 15 | 16 | 17 | 18 | 19 | 20 | 21 | 22 | 23 | 24 | 25 | 26 | 27 | 28 | 29 | 30 | 31 | 32 | 33 | 34 | 35 | 36 | 37 | 38 | 39 | 40 | 41 | 42 | 43 | 44 | 45 | 46 | 47 | 48 | 49 | 50 | 51 |